SALUTE TO A THISTLE . . . Piper Alan Marshall plays a musical tribute to a new artwork and 130 years of tourism at the UK's marriage mecca

---
While agriculture was Hugh Mackie's main interest, he also owned the working smiddy at Headless Cross, Gretna Green, renowned for runaway weddings over the anvil, which began in 1754.
He was intrigued by the number of visitors arriving at his near-by farmhouse and asking to see inside the smithy to view the legendary anvil where so many marriages were forged.
In an early example of rural diversification, he opened a museum in the humble white-washed building, which became a rare example of late Victorian tourism.
Today the extensive visitor attraction, which still has the original Old Blacksmith's Shop as centrepiece, attracts more than 850,000 visitors from around the globe each year.
Hugh Mackie's great-grandson Alasdair Houston unveiled the latest art installations.
He is a farmer and executive chairman of Gretna Green Ltd., the still family-run business which owns and operates the complex and near-by Smiths Hotel, another hotel close to the border and the historic First House in Scotland marriage room and restaurant.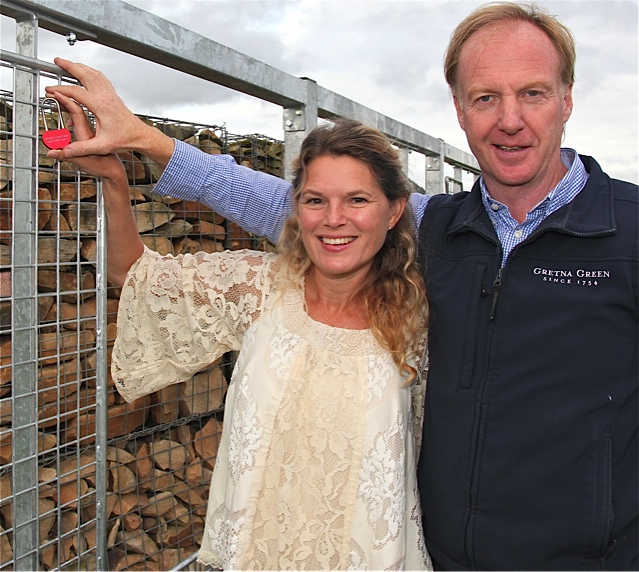 Mr Houston was joined by his wife Lucy, pictured with him here, and two newly-wed couples who had just tied the knot at the border romance mecca.
The first artwork was a 20ft x 6ft steel frame in the shape of the word 'Love,' which will be used by couples leaving lovelocks, a concept which has proved particularly popular in mainland Europe.
Mr Houston explained: "This installation has also been inspired by the number of lovelocks couples have begun to attach to the bridge in our Courtship Maze."
Gretna Green lovelocks have now been commissioned which couples can buy online or at the attraction.
The second artwork is a giant sculpture of a thistle by Edinburgh-based metalwork artist Kev Paxton, believed to be the largest in the world.
Mr Houston said: "We have built up an international destination here that has a unique story to tell.
 "I enjoy creating new ways to represent the special spirit of Gretna Green, which is all about love and to reinforce to visitors that they are now in Scotland."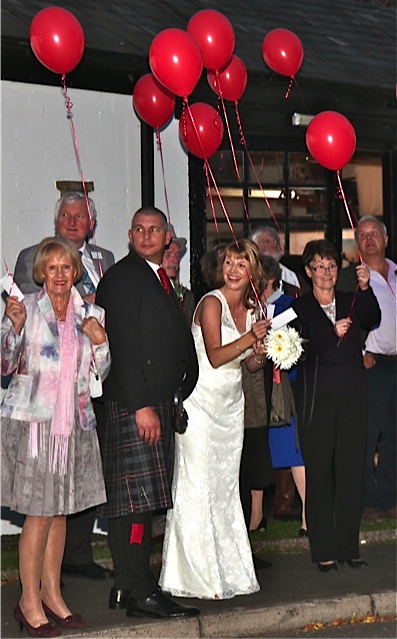 The celebrations culminated in the evening by a private party, pictured here, at the Blacksmiths Shop attended by family and friends with lengthy connections to the attraction and newly weds.
Highlights included an anvil wedding re-enactment and the release of helium balloons with romantic messages attached.
The proceedings were filmed by an independent production company team making an observational documentary series expected to be transmitted early next year on Channel Four.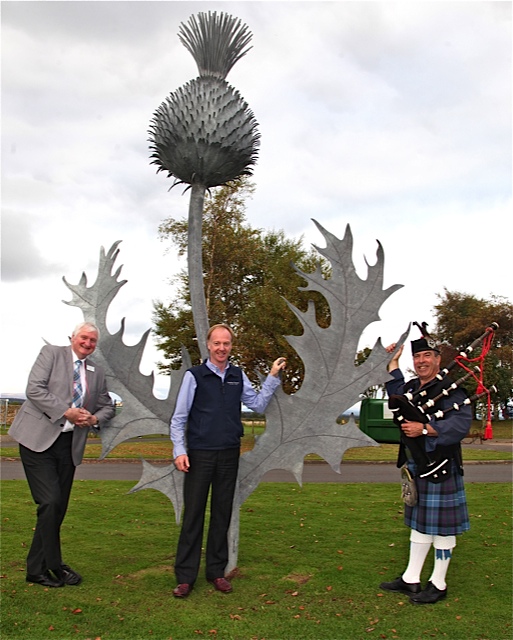 STANDING PROUD . . . what is believed to be the 'largest thistle in the world' has been unveiled at Gretna Green.
At the ceremony on Friday afternoon, were, left to right: Gretna Green Ltd exhibitions manager Frank Clarkson, executive chairman Alasdair Houston and resident piper Alan  Marshall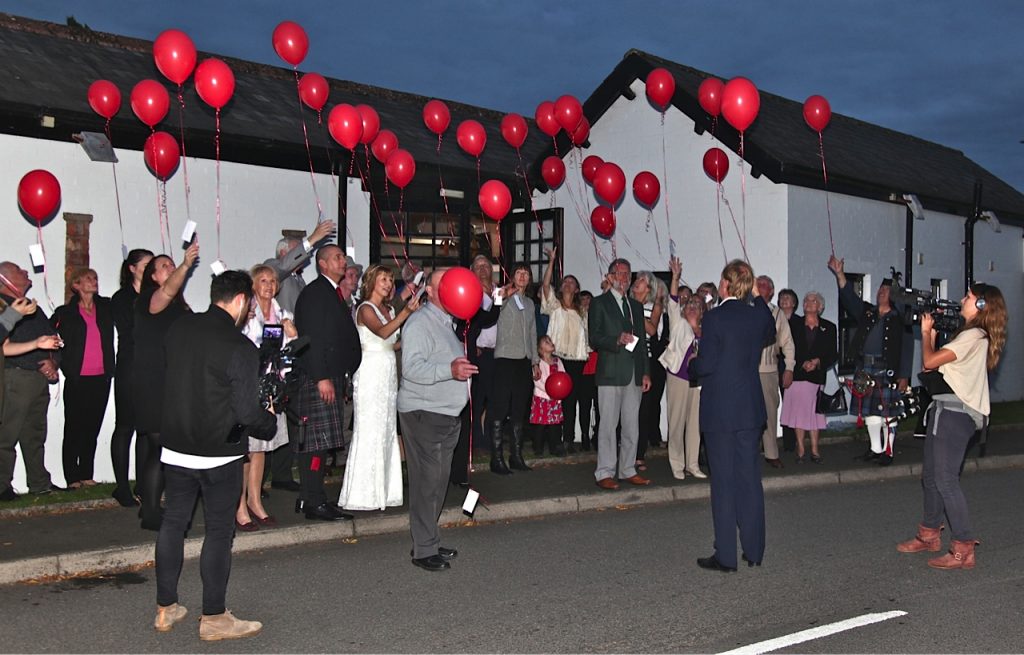 UP, UP and AWAY . . . balloons with romantic messages attached are released during the evening celebration at the World Famous Old Blacksmith's Shop.   The release was filmed by a production company making an observational documentary for Channel Four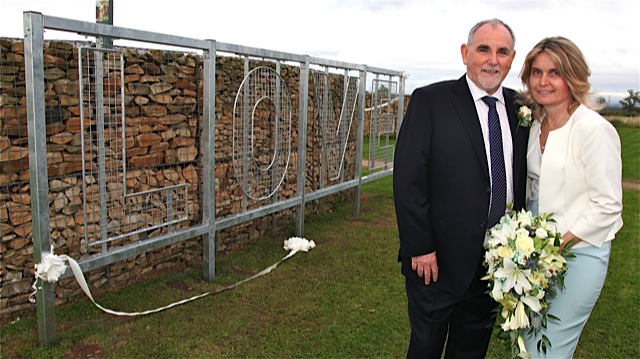 LOCKED IN LOVE . . . aircraft engineer Nigel Griffiths and his teacher wife Oonagh placed a love lock on one of the new artworks after their Gretna Green wedding ceremony.
The couple are both working in the Kingdom of Bahrain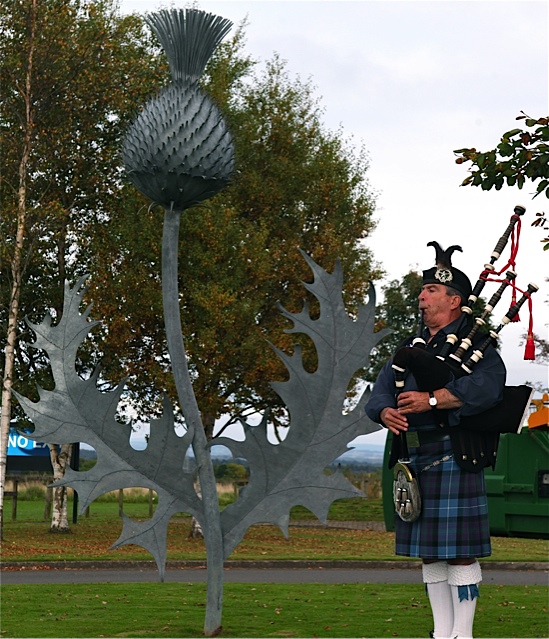 TOWERING THISTLE . . . Piper Alan Marshall