A LONGTOWN pub has gone pink to mark Organ Donation Week and in memory of their late owner.
The Graham Arms Inn has been holding a number of different events across the week as well as switching on pink lights during the evening.
A quiz night was held on Monday hosted by Roy Little; on Wednesday, it was bingo and a raffle; and tomorrow there's a jazz afternoon featuring the Esk Valley Jazz Band with DG Blood Bikes attending, then live music in the evening with Wayne O'Neil.
And a raffle draw is set to be held on Sunday in memory of the inn's late owner Pauline Brown, who passed away in November 2022, aged 68.
A former nurse who specialised in elderly care, Pauline was a huge advocate for organ donation and had always talked openly to her family about her wishes.
After Pauline's sudden passing last year, her organs and tissues were donated to those in need, drastically changing the lives of four people through a liver transplant, two separate kidney transplants and donation of corneal tissue.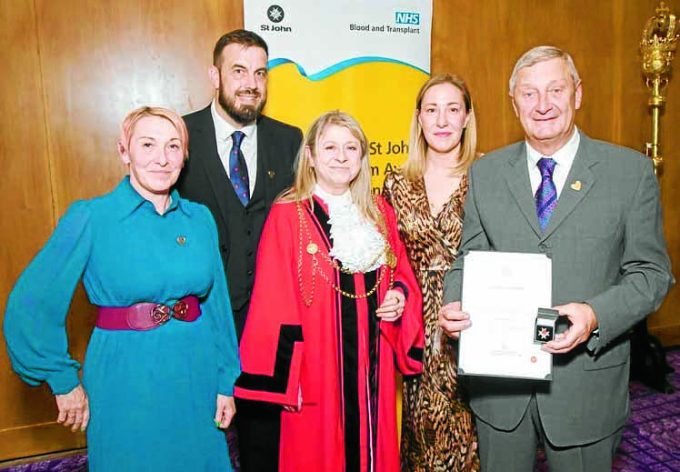 Pauline's daughter and current owner of The Graham Arms, Vikki Brown, said: "On 9 May 2023, our family attended a presentation at the Civic Centre in Newcastle Upon Tyne, proudly wearing our Organ Donor Family, Gold Heart pins.
"The pins symbolise the generosity we have shown in supporting organ donation.
"The presentation posthumously awarded mam of The Order of St John, granted by HRH The Duke of Gloucester, and given as national recognition of organ donation.
"As a close knit and loving family, we are devastated at the loss of a truly amazing woman, our angel Pauline, but we are immensely proud of her. She leaves behind a legacy with her generosity that cannot be forgotten – the gift of life.
"We would urge everyone to sign the organ donation register and have those difficult conversations with your loved ones.
"When the time comes, leave them certain of your wishes."
n To register your decision on the organ donation register, visit https://www.organdonation.nhs.uk/register-your-decision/.