BLUEPRINTS and mock ups of Lockerbie's much needed new car park were on show in the town this week – but not everyone was impressed.
Dumfries and Galloway Council held a two-day public exhibition showing off their plans for both extra parking and a revamp of the existing station parking area.
And they revealed that phase one of the long awaited £500,000 project has secured planning permission already and is set to get going within this financial year.
It will be focused on the new site at the former Tyrone House in Sydney Place, where 49 spaces will be created, including four for electric vehicles complete with charging points.
Access from there to the station will be via the existing walkways on Bridge Street.
Although it is being specifically aimed at railway passengers, the car park will be operated
by the council and therefore public and open to all.
Phase B will follow after that in the 2023-4 financial year.
It will involve merging the two existing station car parks together to improve the flow and will include getting rid of the kerbs that currently separate the parking areas. There are also provisions to tackle ongoing pavement parking issues.
Disabled parking will also all be grouped near the station entrance.
The public exhibition has now closed but the mock ups can still be viewed on the council website at dumgal.gov.uk, where there is also a 3D visualisation.
There is also the chance to leave feedback on the webpage until August 21.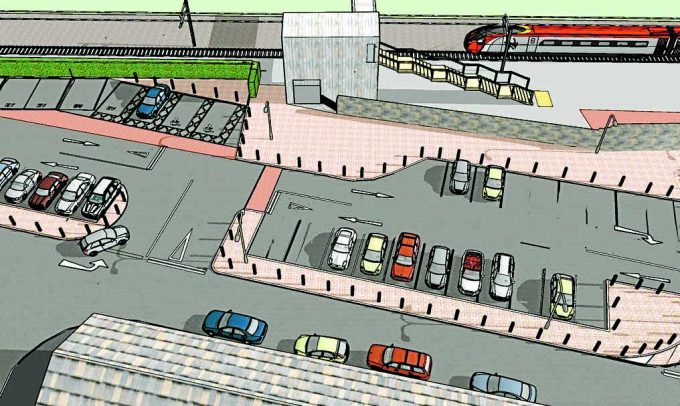 Dumfriesshire MP David Mundell and MSP Oliver Mundell viewed the plans on Tuesday and afterwards voiced concerns and called for a rethink.
In a joint-statement the pair said: "We were hoping this exhibition would signal a positive step forward but sadly we were left disappointed as it appears to have been more of a box-ticking exercise.
"A major concern is that the number of existing spaces immediately beside the main station buildings is going to be significantly reduced. That, sadly, will result in increased pressure on the streets, some residential, in the vicinity of the station.
"We were also astonished that where the new parking spaces were being created on the east side of the line, the area does not come with either a direct link to the station or even easy access to Bridge Street.
"Access to and from the proposed new car park appears to be at the furthest away end and is not as straightforward as we had anticipated."
They added: "We are calling for these proposals to be sent back to the drawing board and a plan formulated that urgently and effectively deals with the long-standing parking problems at Lockerbie, reducing the disruption faced daily by local residents and travellers."
Pictured above: Cllr Carolyne Wilson with the plans