The Englishman netted his seventh and eighth strike of the season in a tremendous 4-2 victory at Gayfield to put the club firmly in sight for a promotion play-off battle.
And the defender – who has featured in defensive midfield over the last month – feels there's more to come from himself and his in-form teammates.
He said: "I'm over the moon to score two against Arbroath and it's now my best all-time goalscoring season. My previous best was seven but I'm more overjoyed with picking up the three points. It's not about me, it's about the team and getting the club in the position we want it to be.
"I just keep trying and working hard. If I manage to get a goal, I'm doing my best for the team. I don't practice shooting in training, I used to play striker as a kid and scored loads of goals. It's different to playing professional football although you never lose the ability when you were young. When I'm in front of goal I just know how to strike the ball.
"We showed the heart and desire to come from behind and win. We want to continue this run but every game is so tough."
Also on the scoresheet for the Doonhamers last Saturday was defender James Maxwell.
The on-loan Rangers left-back admits Gayfield is now one of his favoured grounds after scoring two goals there this season.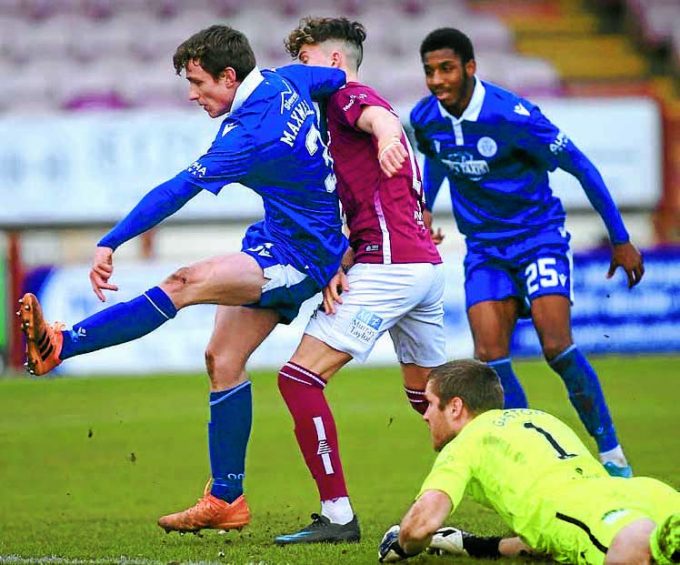 Maxwell said: "It's a strange one as Arbroath is one of the toughest places to go where you need to defend well so to find myself scoring in two games up there is a bit strange.
"Hopefully I can grab another goal or two between now and the end of the season even if it's not at Gayfield."
Next up for the high-flying Doonhamers is a home match against basement boys Alloa. The Wasps are the last team to beat Queens and Maxwell has warned they will have to be on their game to extend their incredible run.
He said: "We played really well against Alloa at Palmerston. However, everyone knows that Alloa have quality players and nobody has had an easy game against them this season, so we need to respect them.
"But we know that the players we have towards the top of the pitch can really hurt them especially with Connor Shields being back in the team."
With only eight games remaining – unless Queens make the play-offs – Maxwell has stated his time with the Dumfries club has been an enjoyable experience and has improved his game.
He said: "I think it's clear to see that I'm really enjoying my time at the club throughout this season, everyone in the squad is in a really good place right now so it's hard not to enjoy it.
"I have definitely improved throughout the season especially on my defensive work, although it's not perfect yet. I always back myself to have the qualities going forward and that's where I'm best however the defensive work has been a real positive for myself in my development this season and I'm glad I've been able to showcase both sides."
The youngster has proved to be popular amongst the Palmerston faithful and he hasn't ruled out another stay with the club next season.
He added: "I want to get to the end of the season here before thinking about plans for next year. I have 12 months left at Rangers so will need to see come the summer what their thinking is.
"If it was another loan then I wouldn't have any hesitation in coming back considering how well this season has gone. But who knows."