A GREAT conical mound topped with standing stones and named after the Andromeda galaxy was today the site of a 4am Sunrise Ceremony to celebrate the dawning of the summer solstice.
The gathering, at Crawick Multiverse in Upper Nithsdale brought together members of the public, scientists, academics and storytellers at the 55-acre artland which is inspired by astronomy and the wonders of the cosmos.
Dozens of visitors attended including Multiverse Trust Patron Richard, Duke of Buccleuch.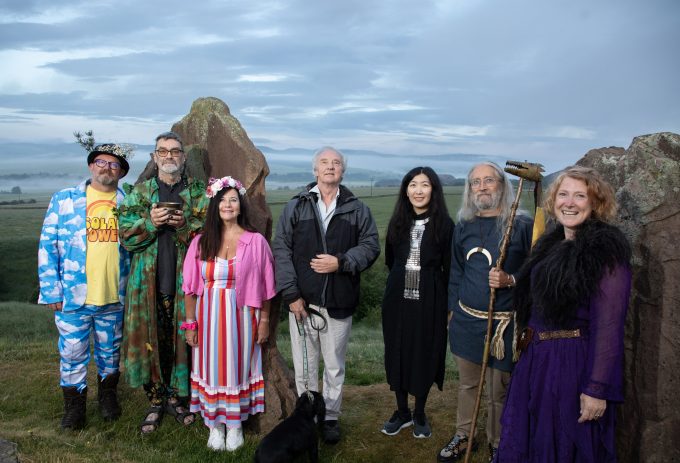 The ceremony which included poetry from different cultures and eras was led by Open University Professor of Religious Studies, Graham Harvey, Dr Luidmila Nikanorova and professional storyteller, Gordon MacLellan.
Gordon said: "Our Solstice Sunrise Ceremony drew on midsummer traditions from around the northern hemisphere, bringing together ancient British poetry with Scandinavian stories and more.
"Spiritual without being religious, we wanted to encourage visitors to pause and reflect upon their relationship with the world around them and appreciate this morning, this sunrise, one of the turning points of the year."
Gillian Khosla, chair of Crawick Multiverse Trust, added: "There's a real sense of magic and wonder when the sun rises over Crawick Multiverse on the Summer Solstice – with its great mounds inspired by the Milky Way and Andromeda and its avenues of standing stones."
It was the start of a day of family-friendly activities which will culminate in a Tilt Ceremony from 3.15pm to 4.15pm – the moment when sun reaches its annual zenith and the year turns.
Through the day there will be music by international harpist Wendy Stewart, drumming by children from Kelloholm and Sanquahar primary schools, science talks, guided tours, storytelling, yoga, dance and Tai Chi.
It's part of a week of solstice events running until Saturday that blend art, science, mystery, music and entertainment and concluding with a Midsummer's Day Family Picnic.