Jackie Armstrong, 46, above, was first diagnosed with breast cancer in 2010 but managed to beat the disease.
Since then she has raised over £30,000 for Maggie's Cancer Caring, who supported her while she battled the disease.
Unfortunately she was diagnosed again with cancer earlier this year but vowed to keep raising money for the charity until she reached her £50,000 goal.
She said: "I am 100 per cent still committed to raising £50,000 for Maggie's.
"I get such a buzz doing charity fundraising, especially after an event is finished and I get to see how much money has been raised and the events are also really exciting too."
Sunday's zip wire saw 115 people rise to the challenge and zip across the Nith, despite rain showers.
Mum-of-three Jackie said: "There were a few nerves on the day but all still overcame their fears and completed the 100 ft x 800ft zip wire."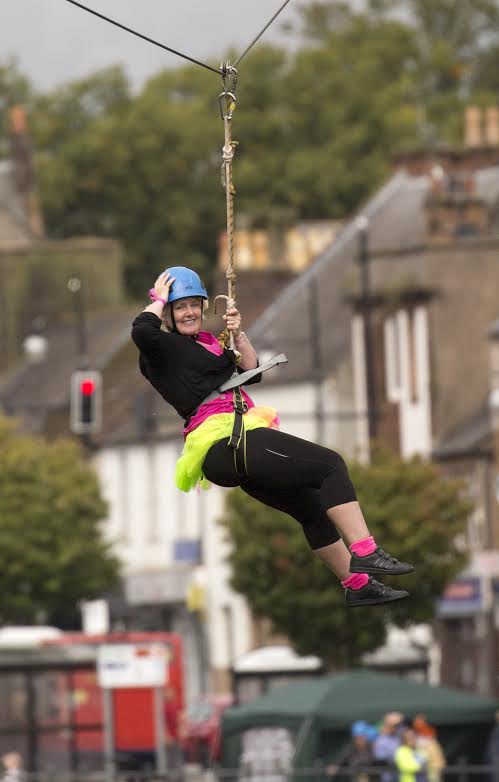 REACH FOR THE SKY . . . Jake McEwan makes her descent
As well as sponsorship money, further funds were raised through face painting, children's entertainment and a guess the weight of the cake competition.
Jackie is now looking forward to finding out how much the zip wire has raised this time round and seeing how close she is to her £50,000 target.
Jackie said: "We will find out in a month's time how much has been raised. "In the meantime I would like to thank everyone for their great efforts raising money for this cause and all who helped out on the day."
And the busy mum has no plans to slow down her charity work yet. Jackie, who became a granny for the first time earlier this year, says her grandaughter Ellie has inspired her to fight the disease even more and work harder to raise funds.
She said: "Being a nana definitely gives me more reason to fight hard. "I'm finished chemo now and not feeling so bad so I'm looking forward to raising more money now."
Next Saturday night Jackie plans to throw an 80s night event at the Mid Annandale Comrades Club in Lockerbie.
Tickets available from Jackie, the Comrades Club and the Flowerpot.