The 18-year-old is currently studying and competing in athletics in a scholarship at Charleston Southern University in South Carolina.
Former Langholm Academy pupil Conan had the unenvious task of selecting just one university from over 70 individual offers. And so far he is loving life in Charleston at its 300-acre Southern University Campus.
The Charleston Southern University Buccaneers, the name for their university sports teams compete in the National Collegiate Athletic Association (NCAA).
The CSU Buccaneers participate in Division I of the NCAA as a member of the Big South Conference.
Conan is part of a 31 strong athletics team made up of 15 boys and 16 girls that meet at 6.45 am every morning to train on the track.
Speaking about life so far across the Atlantic, Conan said: "I have been able to settle well into the training programme and have been running over 90 miles per week for six weeks with the team and I'm really starting to feel the benefits.
"It was difficult at first settling into a new training programme under a new coach whom I had just met but I feel like things are going to go very well here."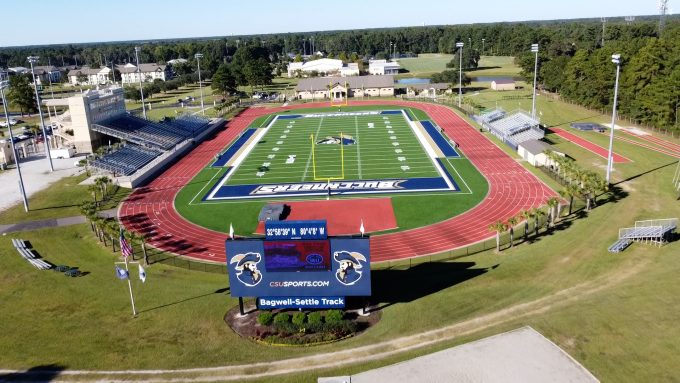 On Saturday Conan travelled over 600 miles to Louisville in the state of Kentucky to compete in an eight-kilometre cross country race which his team were looking to compete well in.
In a field of 380 runners from 39 teams, Conan finished as the seventh placed freshman with his team finishing in sixth place overall.
He will be running in four more races before Christmas that will see him travel across the country, including a race in Virginia and competing on the indoor track nearly 1000 miles away in Boston in December.
Conan said: "The facilities are a massive step up from what I was used to back home. I have access to high quality gyms, track and field facilities and physio that are all just five minutes from my accommodation."
Conan is looking forward to returning to Scotland in December to visit family and friends and take a much-needed break before flying back out early in the new year.