VANDALS have again recklessly smashed up a life-saving defibrillator in Annan — leaving half of the machines in the town out of use.
The thugs bust the equipment outside Atwal's newsagents on Springbells Road in the early hours of New Year's Day.
CCTV footage of the incident shows two hooded individuals loitering outside the store before one punches the box's protective glass and the pair take off.
It is the second time an automated external defibrillator (AED) has been damaged in the town in as many weeks, following a similar incident outside the Station House last month which left one of the boxes temporarily defunct, meaning it could only be accessed at the bar, which subsequently closed due to coronavirus restrictions.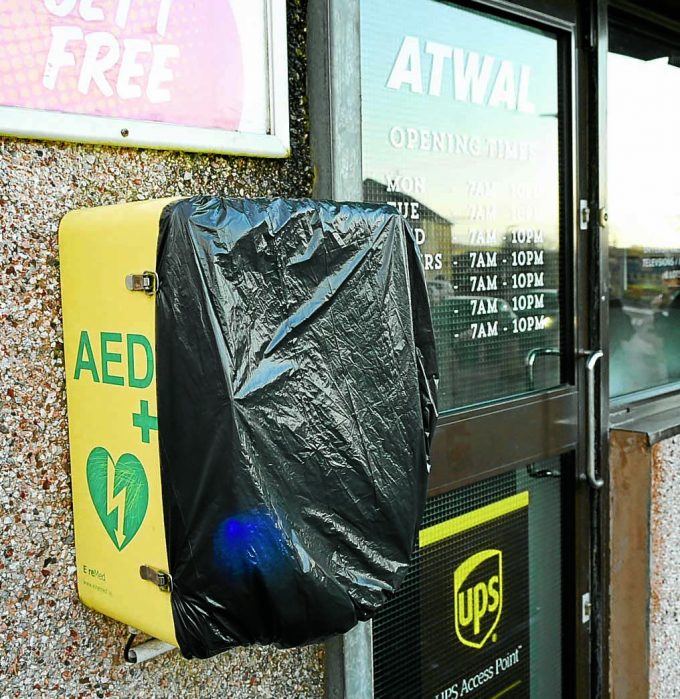 The careless acts leave just two of the town's four boxes fully functioning, with repairs not expected until at least later this month
Hardip Atwal, manager at Atwal's, called the incident "absolutely disgusting," adding: "As we stand at the moment, The Station is closed, and this defibrillator is now only available from 7 am to 10 pm and the nearest one after us is the Spar — it could be a very long five minutes driving — or walking – from our bit to Spar and back. That person could be dead by the time they get back.
"The ones that have done it, I really hope, if anyone, it's them that need it and I really mean that – words can't describe how I feel. I can't believe how somebody can be as low as to smash that glass up.
"It's vital life-saving equipment and it's just awful."
John Steel, who led the rollout of the AEDs throughout Annan in 2016, said he was "raging" upon finding out that more equipment had come to harm, adding: "Especially when I looked at the CCTV footage because it's not youngsters and they're old enough to understand the importance of those machines."
He continued: "It was the people of Annan who raised the money to buy these machines that belong to the people of Annan. The purpose of them, obviously, is if the ambulances are busy then there's a chance it could keep somebody alive until the ambulances get there, and they're old enough to understand that.
"It's not an accident, if somebody had fallen accidentally that's fair enough but it's been deliberate both times. Whether it's connected I don't know but it seems a coincidence that over a matter of two weeks, two defibrillators have been damaged."
John, publican of Annan's Commercial Inn, added: "Why you'd want to damage something that could possibly save somebody's life is beyond me."
The feeling was mutual amongst local police, who asked: "Who damages life saving equipment?" in a post on the their Facebook page.
The statement added: "In our rural communities these machines could save someone's life."
Annan sergeant Scott McDowall yesterday added: "It's not believed that these two incidents are linked, nor are the boxes being targeted.
"It would appear to be more the case that it's been people under the influence."
Enquiries are ongoing.