Young's Seafood Ltd have announced they plan to close their Stapleton Road site with the potential loss of around 450 posts before the end of the year.
Under the plan, the company's sister scampi processing factory in Port Street, Annan would remain open, possibly recruiting an extra 50 workers.
Young's bosses this week revealed that they had begun a formal consultation process with staff and their representatives.
But community leaders and politicians have expressed shock at the grim news and the potential economic consequences of the proposal on individuals and the local area.
Young's chief executive Bill Showalter was at the Annan factory, considered the region's largest private employer, as the news was broken to various shifts on Tuesday.
The company confirmed three new contracts with one of their largest customers M&S to supply chilled and frozen coated fish, natural salmon and white fish from 2018 to 2023.
However, following a review of UK operations, bosses revealed plans to remove the core Deli and Meals work from the Annan site as the 'production was no longer financially sustainable.'
A statement continued: "The company proposes to move the remaining natural salmon production undertaken at the Pinneys site to Young's existing natural salmon facility at its Humberstone Road site in Grimsby."
Referring to possible recruitment at Young's Port Street scampi factory, the firm added: "If these proposals go ahead, employees at Young's Pinneys will be provided with information regarding these new roles and will be given preference over new recruitment."
Chief executive Bill Showalter said: "Today's proposals to close our Young's Pinneys site does not reflect on the committed and skilled teams at Young's Pinneys.
"They are a credit to our company and if these proposals do go ahead we will work hard to maintain the employment of all colleagues throughout this transition.
"We have a long history of seafood production in Annan and whatever the outcome of the consultation we will continue to be a part of the community, given our other factory site within the town."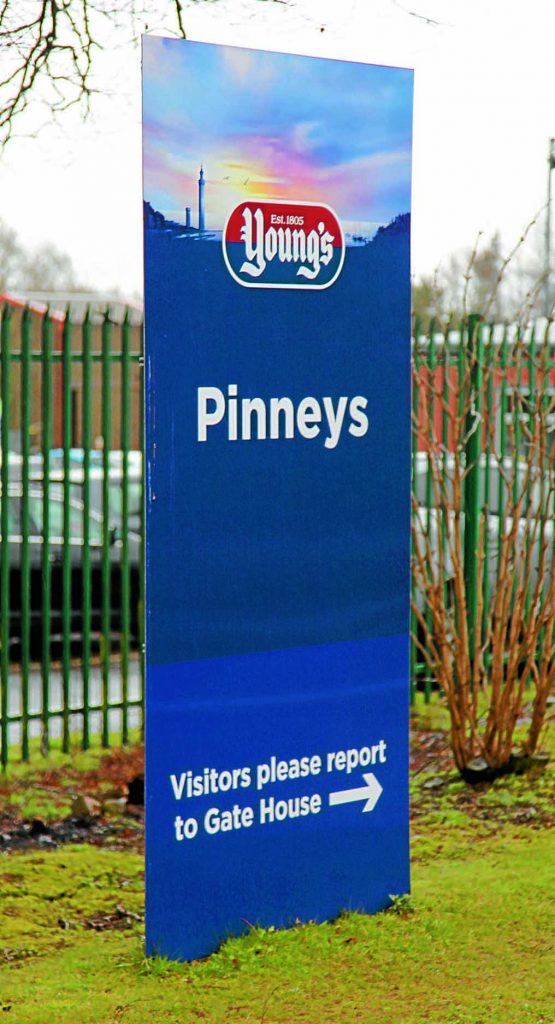 Dumfriesshire constituency MSP, Conservative Oliver Mundell, expressed his anger at the decision.
He said: "This news has come as a complete shock to the workforce and the wider local community and it is impossible to convey the level of disappointment and sadness many will feel.
"Pinneys is an iconic part of Annan's heritage and as the largest local employer it has a key role in supporting the wider local economy.
"Most of all I am extremely angry at the course of action Young's have chosen to take and believe there is far more they could have done to exhaust opportunities for the site."
Mr Mundell stated he had contacted Young's directors adding: "I have been in contact with the relevant agencies and Scottish Government Ministers and I stand ready to do anything I can to support staff and the site moving forward."
Meanwhile, Dumfriesshire Conservative MP and Scottish Secretary David Mundell said: "The news that Pinneys in Annan is to close its doors is a tragedy.
"Pinneys have been an important part of the Dumfries and Galloway community for many years, and their closure will be a great loss in an area with few large employers.
"My thoughts are with the company's workers, and their families at this uncertain time. The UK Government stands ready to do all it can to help those affected."
South of Scotland MSP and Scottish Labour's Shadow Cabinet Secretary for the Rural Economy, Colin Smyth said: "This is absolutely devastating news for the Pinneys workforce and their families and my thoughts are with them.
"There are whole families employed at Pinneys, which has served the town as a major employer for decades and this closure will be an utter tragedy for so many people.
"A closure of this scale in such a small community will send shockwaves right across the whole, already fragile, local economy."
Mr Smyth added: "Annan has never fully recovered from the rundown of Chapelcross and now faces the double whammy of losing its only other big private employer."
South of Scotland SNP MSP Joan McAlpine described her 'shock and anger' at the decision.
She said: "This will be an incredibly difficult time for the many people who will be coming to terms with the news. I stand ready to help in any way I can, and I urge people affected to get in touch with me.
"I have already been in touch with Scottish Ministers asking what help they can offer."
Ms McAlpine added: "The new South Scotland Enterprise Partnership will play a key role in securing urgent additional investment in the Annan area in attempt to make up for such a huge loss."
NEWSDESK: 01461-202417