THE South of Scotland Tree Planting project has announced a new round of funding, with £120,000 available over the next 12 months.
It will enable community groups, farmers and landowners to plant around 15,000 landscape trees across Dumfries and Galloway and the Scottish Borders.
Individual grants of up to £1000 are available through the initiative and this year the project team are particularly encouraging applications for the planting of riverbank trees in the area. Clumps of trees located alongside rivers and streams can provide much-needed shade for young salmon and other fish that are susceptible to stress and even death in the higher water temperatures that are resulting from climate change. Riparian tree-planting and associated tall grassland vegetation, provides habitat for other wildlife such as otter, kingfisher and butterflies and dragonflies. Ungrazed river corridors also provide ideal habitat for pollinating insects such as honey bees and bumble bees. Overhanging trees help to stabilise river banks and lessen run-off during periods of heavy rain.
The South of Scotland Tree-Planting project is administered by the Galloway Glens Landscape Partnership, Tweed Forum and Borders Forest Trust.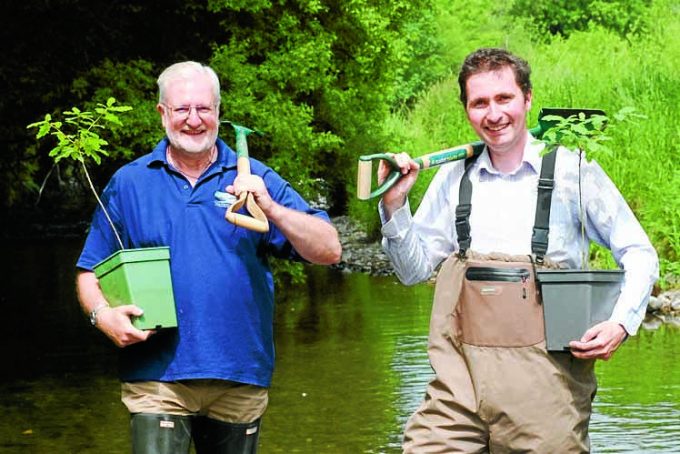 Jonathan Barrett, from Galloway Glens Landscape Partnership said: "The grant scheme has provided a huge boost to tree planting at community level across the South of Scotland."
Hannah Cockett, Borders Forest Trust, added: "This scheme is a really simple way for people to play a role in increasing tree cover across the South of Scotland. Even a small number of trees can bring significant benefits."
Since the scheme first launched in April 2021, over 34,000 individual trees have been planted. As a result, the South of Scotland now has 25 new orchards, 120 small copses and 20 new parkland tree sites, as well as numerous riverbank, field margin and fence-line trees. A dozen neglected small woodlands have also been restored.
To find out more about the new grants, contact the Galloway Glens Landscape Partnership on 07469 571806 or Borders Forest Trust on 07399 275973.