But a lot of people are still unsure exactly how to make it work on their face.
Gretna based make-up artist Megan Rose Smith, pictured above, popped into the BE office to give us the low down on the technique.
She said: "Contouring is quite a glamorous look. It has become popular, mostly because of the celebrities that use it.
"However, the technique has been around from the early 80s and was used originally by drag queens – but that's the most extreme form. It has been used ever since for stage and TV make up as it photographs really well.
"It really blew up when reality star Kim Kardashian posted a photo and people cottoned on to it. Ever since everyone has been obsessed."
The aim is to define the features and Megan said: "The original idea behind it was to create a more feminine face by shading and contouring certain areas.
"When you shade one area it makes it disappear. Then you highlight the features you want to bring out. "Contouring sculpts and chisels and tricks people into thinking things are there that are not."
Offering advice, she added: "People get scared by the pictures, but it's literally lines and dots and shading what you do not particularly like and highlighting what you do like. It's easy and can be used for everyone.
"People should always pick out at least three things on their face that they like."
She advises practising at home, studying your face and using face graphs from the internet for advice.
"If you have a big event coming up, try doing different aspects of contouring and test them out each day. Do not do the whole thing at once," says the 19-year-old.
"By the end of a week you might be able to do your whole face."
Former Annan Academy student Megan has a diploma in make up artistry and set up her own business at the end of March.
She does bridal beauty, demonstrations and has been invited to events and photo shoots.
Looking forward, she said: "I would like a beauty parlour somewhere in Dumfries and Galloway as I
believe there's a market for it here. It would be dedicated to make up artistry skills with classes on site."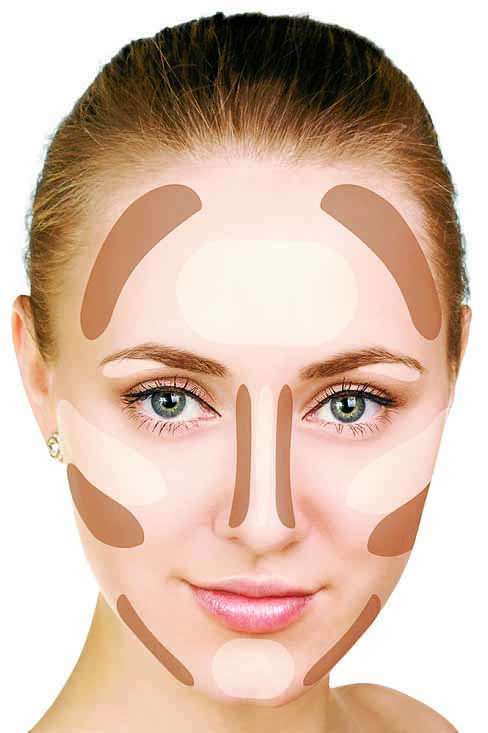 How to contour:
1. Do the base first: prime the skin and apply a normal layer of foundation.
2. Next, apply the contouring product on top of foundation. It's best to use a damp sponge and dab product onto the skin.
Start with highlighter and apply to the highest points of the face, e.g. tops of the cheekbones, over eyebrow arch, on top of eyebrow, down the bridge of the nose and on the cupid's bow to make the lips look fuller.
3. Put the darker shade around the top of forehead/brow line, under the cheekbones, either side of nose to slim it down and on the jaw to soften it. Megan said: "Everything you put the dark shade on is drawing attention away from it. The eyes and brain are programmed to look at things that are the lightest."
4. Put a brighter concealer under the eyes where skin is thin.
5. Set the look with a pale translucent face powder. This stop its coming off. For a strong photographic look, fill the sponge with powder and pack it heavily under the eyes. Leave to 'bake' for 15 minutes and brush off the excess.
6. Finally, shimmery highlighters are very popular and can be put on the top of the cheekbones, so when you turn it catches the light and makes that area pop. Also, a peachy coral blush on the apples of the cheeks suits everyone.