WE have gone back in our archives to find old photos and information about the Annan footbridges in their heydays.
The Jubilee bridge was the oldest of the two, built in 1898 to mark the Diamond Jubilee of Queen Victoria following a local subscription campaign.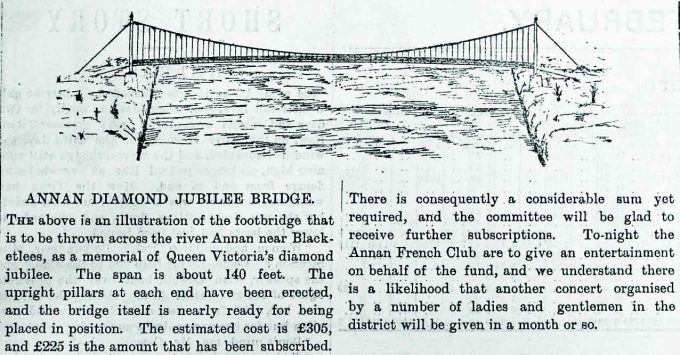 Public fundraising for the project started in the jubilee year of 1897 and ultimately collected the £305 needed through donations and charity concerts.
The 140 foot wide suspension bridge was constructed by P&R Fleming, of Glasgow, and was a category B listed structure.
The pillars were in place by January 1898, however, it was not fully completed and open for use until May that year, when a picnic was held to mark the occasion.
The newspaper at the time reported that despite the showery conditions on the day, there was a good turnout for the event. The official opening was carried out by Mr EJ Brook Younger, of Hoddom and Kinmount, accompanied by Provost Hiddleston. Rev Dr Crichton also performed a prayer to open proceedings and Sgt Mackenzie played the pipes.
A photograph was taken by Mr W J Monro, but its current whereabouts are unknown.
Meanwhile, the 120 foot wide Cuthbertson Bridge opened in 1957 and was paid for by 'a large sum of money' from Captain Cuthbertson's will. It was erected in memory of residents from the town who fought in World War II.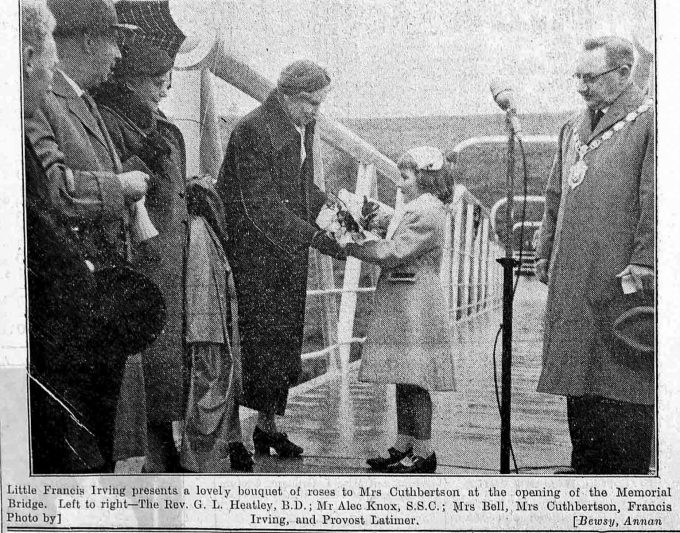 Messrs James Crombie and Sons, of Carrutherstown, were responsible for the supply, erection and foundation work, with steelwork supplied by Messrs Tubewright Ltd of Newport.
These photos – and more – will be on display in the window of our High Street premises from later today.