A BIG CAT enthusiast is collating and mapping non-native big cat sightings across the UK — and wants contributions from Dumfriesshire.
Already, the Scottish Big Cat Mapping Project has logged over 1100 reports on the map dating from 1947 to the present day, with many coming from this region.
The project is spearheaded by Paul Macdonald, a custom sword and knife-maker at Macdonald Armouries.
Explaining his fascination with big cats, he said: "I first saw a cat in about 1988.
"It was up in the Highlands and that captured my interest in them ever since. I was on the train with a friend travelling through Glenfinnan on our way to school at Lochaber.
"The train stopped, and we saw it had just disturbed this big cat, dark in colour and close to the train. It was clearly used to the train going back and forward several times a day as it didn't run off, it just started slowly slinking away.
"My friend and I both locked eyes on it and we couldn't speak for the duration it was in our sight. The train then went into the tunnels, I turned to him and said 'did you see that', he said 'it was a big cat wasn't it?'
"That was my first big cat sighting and I'm glad it was a close one as it was unmistakable as to what it was."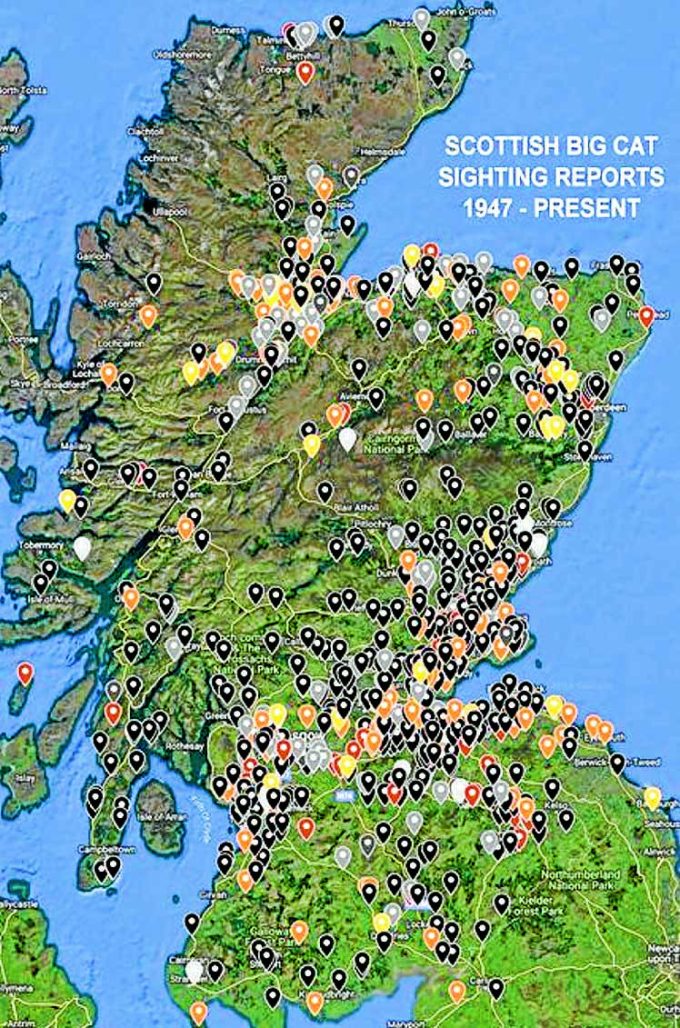 Paul began researching, collating and mapping the locations of big cat sightings a few years ago after moving closer to Edinburgh.
He continued: "Big cats like lynx, pumas, panthers and leopards can live in hot and cold climates.
"Scotland is teeming with wildlife for them to prey on. It's likely they're playing a valuable role in redressing any imbalances in the ecosystem as we don't have any other apex predators in Scotland."
Paul stressed that any further contributions to the map would be extremely helpful, adding: "Details ideal to include would be known or approximate date/year of sighting as well as colour of cat, estimated size and location.
"The Scottish Big Cat Mapping Project and details of currently active areas are not made available online and all research is carried out in the interests of the animals."
Sightings should be sent to [email protected], or by direct message via the Big Cat Sightings in Scotland Facebook group.