American-based online clothing store Wikipparel currently has on sale t-shirts, hoodies, mugs and posters describing the 1988 terror attack which killed 259 people and had a devastating impact on the town.
It comes after a Czech Republican jigsaw firm put together puzzles two years ago featuring graphic pictures of wreckage of Pam Am Flight 103 in and around Lockerbie.
After months of complaints led by this newspaper with the support of townsfolk, councillors and MSPs, Jigsaw Planet have finally removed the listings.
But now even more sickening merchandise has emerged in the shape of Wikipparel, a website that prints Wikipedia pages on items. Their latest range has shocked the town's community council chairwoman Jan Andrews.
An irate Ms Andrews this week said: "Who wants to buy clothing or drink out of a mug that's highlighting the Lockerbie Disaster? It's disgusting and vile.
"It's disrespectful for people who lost family or friends because of the terror
attack. We've previously had to deal with jigsaws, it's absolutely disgraceful.
"The disaster is part of our history and we'll never forget what happened but Lockerbie as a whole are trying to move forward.
"For people to try and make money from such a terrible event is shameful.
"We'll be getting into contact with the website to try and take down the items to resolve this issue."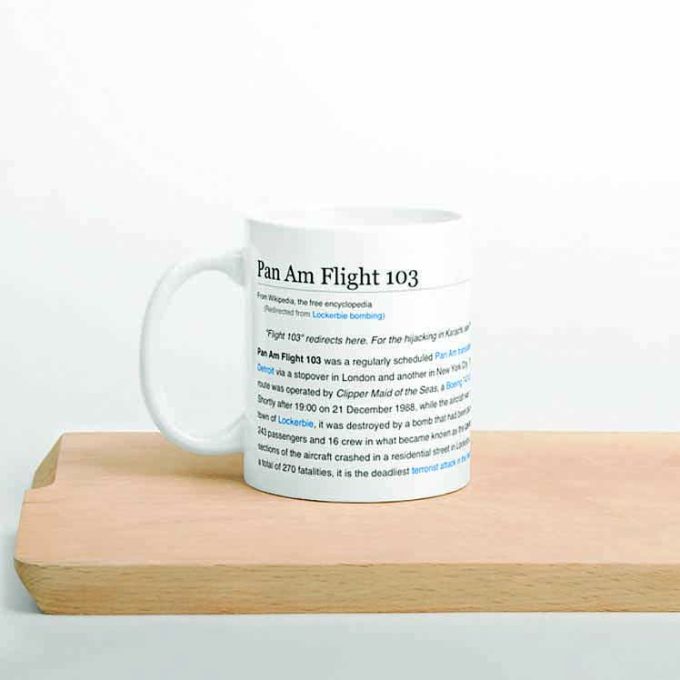 Annandale North councillor Stephen Thompson described the goods on sale as "insensitive" and "inappropriate" and added: "I think anybody who is familiar with what this means to Lockerbie will think this is in incredibly bad taste.
"We have to accept we live in a world where things like this can happen. It's really something that the majority of people here will not have time for.
"Two years ago, the horrific jigsaw was raised at the community council as an issue of concern and insensitive to a lot of people. This is just another example of how inappropriate these things can be."
The website is also cashing in on other terror attacks, serial killers and child disappearances including Madeline McCann. They do sell other light hearted items including Christmas movies.
Wikipparel were contacted for comment.