QUEEN of the South manager Wullie Gibson says he's looking to bring in two more players to complete his squad.
The Doonhamers have done their business quickly this season as they aim to get out of League One at the first time of asking.
Gibson stated that he'll have a squad of 20 senior players backed up with youngsters. He also revealed that he won't be using the loan market unless someone comes along that interests him.
He said: "I'm probably looking at another two, I think a striker and a midfielder.
"I'm going to have a smaller squad, I'd like to think we've not got as many players as last year but we've got more quality.
"I've set my stall out early doors and I knew that I wanted to work with a squad of around 20 senior players. I'm getting there.
"We'll see about the loan market. I wanted to get players on board in a permanent basis.
"I will keep an eye on who becomes available but sometimes I have to have a good and successful group of players sometimes if you get the wrong loan in, it could disrupt things.
"Unless someone comes along that really interests me, then no. But I'm always on the lookout for someone who can add that little bit we've not got."
Gibson believes he has a lot more experience in his playing squad than last season.
He added: "I said quite a bit last year that we struggled in terms of experience.
Experience isn't necessarily how old you are, it's about how many games you've played.
"If you look at the boys that I've signed like Ciaran McKenna, Gavin Reilly, Iain Wilson and Max Currie, they've all played a lot of games. It's about appearances and leading by an example."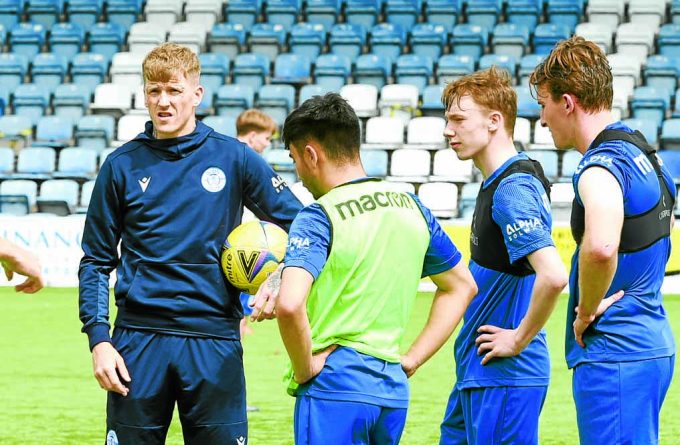 When asked about the future of Aidan Fitzpatrick – who is currently training with Partick Thistle and has featured as a trialist for the Championship side – Gibson said: "I'm aware Fitzy is training and playing with Partick. They know our stance and we know the response from Partick. It's not my job, I have to let the club discuss that and sort it out. If Fitzy comes back, he comes back but if he doesn't then I'll replace him."
Gibson also believes former goalkeeper Josh Rae had been "badly advised" after he signed for Airdrieonians.
It was anticipated that Rae had a move to a higher level in the works after he decided to turn down the Dumfries sides offer.
The Queens boss and Rae did have another conversation about him returning to the club but he decided to join the Diamonds after Gibson couldn't guarantee him the number one jersey.
Gibson added: "I think Josh has been badly advised. He obviously thanked the Queen of the South fans when he decided to turn the offer down and say he was going to move on. But I don't think the move came about.
"I then spoke to Josh again and he was concerned that I went and signed Max Currie and that he might not play every week.
"I said at the end of the day I had to go and get a number one that I felt that could contribute, Max was that person. He was excellent in League One last year and a big part of Airdrie's success.
"Josh did ask where that would leave him if he came back and I said he would need to compete. I think Josh wanted the guarantees that he would play but I'm not giving that to any player.
"He wanted that guarantee that he would play every week and that was behind his decision.
"I've got competition in every place and the boys are going to need to earn the right to play. There'll be no guarantees for any player."
The club also announced that the experienced Gordon Marshall as their new goalkeeping coach plus Robert Kielty as a consultant sport scientist and head of fitness.
The squad continued their pre-season friendly schedule with a 2-1 away victory over Raith Rovers.
Ruari Paton gave Queens the lead from the spot before the Kirkcaldy men fired back with a penalty of their own. However, minutes later Lee Connelly secured the victory for the Doonhamers.
Gibson added: "It's always nice to get the win but I don't read too much into pre-season matches.
"But it was a very worthwhile exercise. It's great to have the young boys involved. I've always said if they are good enough they'll get the opportunity. They've shown they are good enough."
Queens' next friendly is on Saturday when they travel to play Hamilton Accies with a 3 pm kick off.