Three Ways–Beattock to Lockerbie,anew challenge which offers walkers, runners and wheelchair racers three ways to go from Beattock to Lockerbie debuted last Saturday, March 25.
The money raised will be split three ways with wheelchair racer Shelby Watson, Jog Moffat and Dumfries and Galloway Track Athletics, who all helped organise the event, each getting a share of the cash raised.
Participants left from different locations at three different times, with wheelchair racers being shadowed by Dumfries and Galloway Blood Bikes.
All arrived at 12 pm at Lockerbie Ice Rink to make the final push to destination Lockerbie Tesco together, whereafun day would follow.
But a twist was in store as well loved PC John Cowan and local runner Lisa Hall travelled the final mile in wheelchairs.
Thrilled to take part, PC Cowan said: "I would like to thank Shelby for inviting me to be a part of her fundraising day on Saturday.
"It was a privilege to share the road with her and teammates Calum and Conner and wish them all the best for the season ahead."
A spokeswoman from Jog Moffat revealed that early indications show that around £1000 was raised but all three groups plan to make a donation to the Blood Bike group for helping keep them safe on race day.
Meanwhile racer Shelby, who suffers from cerebral palsy, was on cloud nine after the race.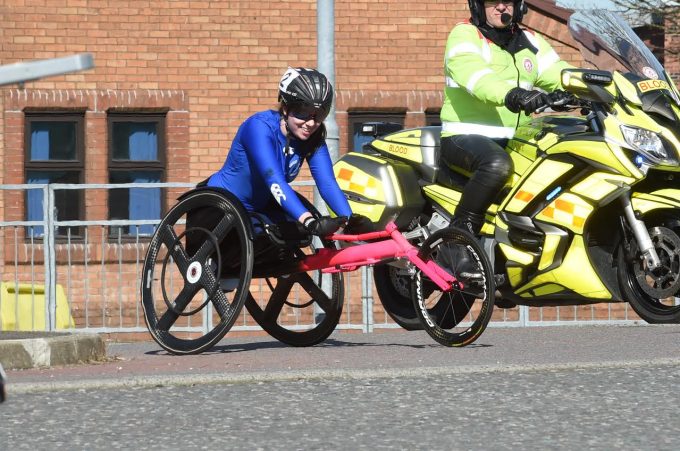 She said: "Thirteen miles in one hour and 15 minutes in a new chair, really quite proud of myself. "Also very proud of my team mates Calum and Conner who really helped push me to believe in myself.
"A big huge massive unbelievable thank you to the Dumfries and Galloway Blood Bikers for keeping us all safe on the road. Thanks to all the supporters, police and Tesco and Road Chef too. It really shows what a lovely community we live in."
And to make the day extra special, Blood Bikers also revealed that their new bike will be named Shelby after the teen racer.
See this week's Moffat News and Annandale Herald for more pictures!