I was also a flowergirl which meant that the stress of picking an outfit was eliminated -and since I was four I wouldn't have picked my own clothes anyway (if I did it would be a Little Mermaid outfit.)
I'm 21 and most of my friends have a minus in front of their bank statement so planning a wedding is out the question, my older sister's more punk than pure white bride and I don't have an uncle, aunt or cousin to my name – meaning wedding invites don't come in thick and fast. So, knowing what to wear for the church wedding that I attended last weekend was a bit of a minefield.
I'm not a fan of funny hats – they dig in and give me headaches – and I'm more in to slits than satin and pink hair than pink corsages, so it was a struggle trying to source an appropriate outfit – one that wouldn't make grannies tut at my tackiness.
I scoured the Internet for the perfect ensemble and it seems every website is currently taking advantage of wedding season with their own 'wedding friendly' section and outfit suggestions.
It seemed as far as wedding guest outfits go, anything goes these days from backless to side boob, sheer and thigh high splits.
Even white dresses were bizarrely advertised as wedding guest friendly – even I with my lack of knowledge on wedding protocol knew better than to show up in a floor length white gown!
After buying and trying several outfits that did nothing for me – I test drove a full skirt and crop top combo before kicking that idea to the curb, are bare midriffs really wedding friendly? – in the end I settled for a nude coloured dress.
I also bought a cheap longline blazer in a camel colour that I customised with a fur collar and, despite buying and sending back two pairs of shoes, I ended up wearing my old reliables, my five inch leopard print heels.
I completed the outfit with a pink beehive updo which included about half a can of industrial size hairspray and several thousands kirby grips.
But in the end I realised that it doesn't matter to the bride or groom what the guests wear – whether they're wearing funny hats, black jeans or feather boas – what matters is that their guests have come to share their happiest moment and celebrate with a drink (or 22).
So thank you Bev and Nick for letting me be part of your special day!
Outfit at a glance…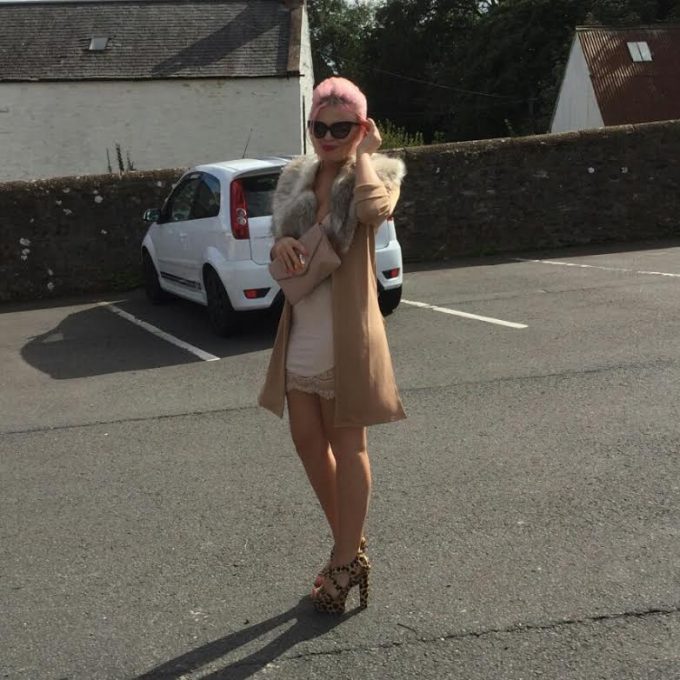 Dress – Missguided, £35
Coat – Boohoo, £20
Faux fur stole – Missguided, £ 22
Bag – ASOS (sale), £6.50
Shoes – Topshop Premium, £90
Sunglasses – Boohoo, £8
Check back soon to read fellow reporter Abbey Morton's account of how she got on as a wedding guest at her weekend wedding. And to see what she wore!