And just over two years later, it has become a business which all the family are involved in, young and old.
Mum Sarah explained that her children's multiple food intolerances were the inspiration for Alternative Chocolate, which she co-founded with husband Simon in 2017. It was later rebranded as Freedom Chocolate in November 2018. Their products are free of the top 14 allergens, wrapped in plastic free packaging and it's all handcrafted by Simon, who quickly took to the art of chocolate making despite no previous experience.
Sarah said: "We had no background in it. Simon was studying ancient history with a view to becoming a lecturer but things change when you have a child with autism and so he gave it up and became a carer. The caring needed two of us all the time. During the diagnosis process, Simon was also diagnosed with Aspergers, which made sense with some of the challenges he faced socially.
"The chocolate came about because everyone in the family has an intolerance to something foodwise: wheat, dairy, soy, eggs, bananas, a whole range of things and it made food difficult. Also, Simon became quite concerned about refined sugar and wanted to avoid it so we ditched all sweets and tried some Free From stuff. But, it was difficult to find ones that match multiple allergies and intolerances and we did not enjoy them at all."
So Simon rolled up his sleeves and started experimenting in the kitchen, filling their Lochside home with the smell of chocolate. Initially he made date bars then found a video about hand tempering chocolate and realised he was able to pick it up quite quickly. It went down a treat and got the thumbs up from everyone. Further taste testing by family and friends also proved positive and the Woods realised they were on to something, Sarah said: "Neither of us had business experience but we knew with the family's needs that being self employed was the best option for us. Simon can also control the sensory aspect and amount of social interaction too.
"We went to some Business Gateway workshops then launched in 2017."
Initially working from home, they soon ran out of space and relocated production to a unit in the town centre. From there, they now make a range of 11 different types and flavours, including blonde, mint and dark and a soon to launch divine dark cherry. Sales come via their website and they attend farmers' markets and other events.
However, the Alternative name was proving problematic with customers querying if it was a chocolate product or something else, so they relaunched as Freedom 18 months ago – and haven't looked back. "After the relaunch the response was fantastic," said Sarah. "People loved the new packaging and branding, the feedback has been really good. "We started off with three but now have 11 flavours and there is not one that is the most popular, they all do well."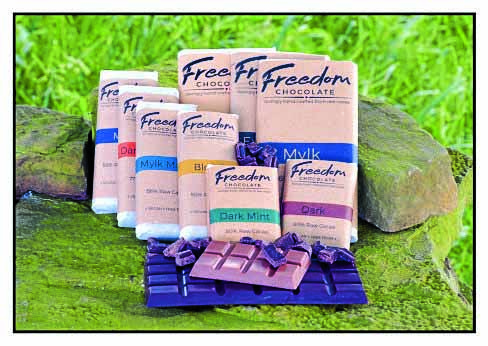 The Woods are passionate about all aspects of the business, from ensuring everything is handmade to using only ethically sourced ingredients form South America. Sarah said: "We want to avoid human trafficking and slavery, it's something that's important to us. We work with small farmer co-operatives for the ingredients."
Simon is a self confessed perfectionist who makes a 1.8 kilo batch at a time. And his wife said: "Everything is done by hand, the only machinery we use is a blender for the cocoa butter and a hot plate. "It's made from scratch, handcrafted and so it is an artisan product."
The Christmas period was 'incredibly busy' and now they are gearing up for Valentine's Day and then Easter, as well as the major Free From show in Glasgow next month, which will be their biggest event to date. Constantly evolving, they have created a chocolate rose for February 14, Easter themed products and have chocolate spoons in development for hot drinks.
"Packs of sweets for parties and weddings is another possibility we'd like to explore," said Sarah. "Our chocolate works a treat if you are vegan or have allergies but it's for everyone too. "We want everyone to be able to enjoy great tasting, hand crafted chocolate."
Mum and dad's hard work has rubbed off on the youngsters and they are vocal ambassadors for the products, often drumming up trade. They have official titles too, with the eldest Megan taking on the role of events assistant, while Daniel, Thomas and Hannah are the junior promotion team with their own T-shirts. Proud of the whole family, Sarah said: "The children are all passionate about the business and are always telling everyone they meet about it and the new flavours we have.
"We all still enjoy chocolate, we're not sick of it yet! However, we have converted the children to high quality dark chocolate now."
Looking ahead, they hope to keep growing and want to eventually take on staff. Sarah added: "We obviously want to be able to support our family but we want to help people to not face some of the struggles we had."