THERE is a two-wheeled revolution underway.
It began last March as the first lockdown was imposed across the country, which presented a rare opportunity for road-shy cyclists who had long intended to get back in the saddle.
And across the country millions did.
Data gathered from cycle counters across Scotland showed that during the initial stages of the Spring lockdown, cycling had more than doubled. By the end of April, there were 70 per cent fewer drivers and 120 per cent more riders on the roads.
Here in the region — the birthplace of the pedal driven bicycle, pioneered in Keir by Kirkpatrick Macmillan in the late 19th century — the boom caught the attention of Cycling Dumfries, a cohort of local enthusiasts. They founded a decade ago to campaign for improved routes in and around the town and coordinate group rides for cyclists of all abilities in the community.
Last June, a fleet of members rode to Routin Bridge to gauge if the cycling surge could be seen locally, and found that bikes formed almost 50 per cent of all traffic on the road throughout the day. In a follow-up count at Dock Park later that month, 286 cyclists passed the group in just six hours.
In the weeks that followed, restrictions on outdoor meet-ups lifted and the team began to organise group rides again – and found that demand had increased threefold since before the pandemic.
"I limited it to 30 people and the first ride was booked up almost immediately. We knew there were more people cycling – you could see it," said group convenor Sally Hinchcliffe. "We had people come along that had just taken up cycling or had started cycling to work and wanted to get out. One of the mothers who came along said the ride was her first time in weeks chatting to somebody who wasn't a work colleague or her family.
"As well as lockdown, one of the things that really got people out on their bikes last year was the empty roads. We've been saying for a long time that people would cycle if the conditions were there, and it's not about the weather or the hills or people preferring their cars. If we had routes where people could cycle away from traffic then they would do it and this has really just proved that that is true."
Sally, 51, stressed that the group strives to cater for all abilities by sticking to paths and quiet roads, whilst travelling at the pace of the slowest rider in each group.
She said: "This is not a training run; if somebody wants to go fast then there are other rides that do that. What we say is our rides are run at the speed of chat so everybody should be able to hold a conversation without getting out of breath. They've always been social rides but since the pandemic it's been even more social.
"We've got half a dozen ride leaders and on all of our family rides we have two leaders per group — someone at the front and someone at the back. That means if anyone gets a problem then we can handle it."
Inevitably, as lockdown eased, traffic returned to pre-virus levels and the roads were again a daunting obstacle for not-so-confident riders. Sally said it is for this reason she believes local cycleways need urgent investment and action from the local authority.
"We're quite active harassing the council or making helpful suggestions and just generally trying to nudge them towards building more cycling infrastructure and improving conditions for cycling," she said. "One of the things we've spent a lot of time trying to raise with the council is that the cycle paths are not that well signposted – for instance, there's a route to Mabie Forest that you can go almost entirely off-road and nobody knows about it unless they've stumbled across it."
Sally, who works full-time as a writer and editor, said that it's communities rather than the council driving initiatives to create new cycle paths and link-up the region's towns and villages.
A handful of ongoing projects being overseen by voluntary working groups and community councils are testament to Sally's claim; designs have been completed for a new link between Moffat and Beattock, first proposed by community councillors who teamed up with Cycling UK and parent councils from local primary schools; in December, £42,500 was granted to the Keir, Penpont and Tynron (KPT) Development Trust, which will be used to connect Penpont and Thornhill; and in January a working group was established to look at creating a cycleway from Lochmaben to Lockerbie.
But Sally said all of these developments are "a long time coming".
"They've been talking about a Moffat to Beattock path for about three or four years," she added, "and there's the Penpont to Thornhill path, which has also been about four years in planning, and it's really slow — that's one of the things that's really frustrating. There's more money from the Scottish Government which helps, but if you just sit there and think: "why isn't there a cycle path, when will the council put one in?", you'll be there for a long time."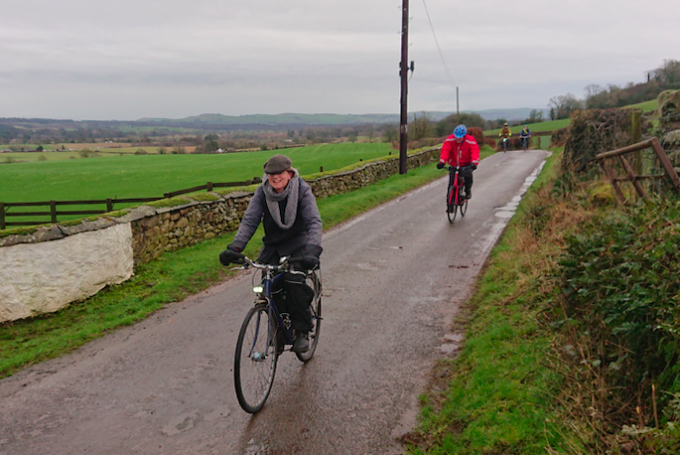 As for the bike boom, is it here to stay?
"I think with all of these things is that there will be some people who will have rediscovered it,"
Sally said. "There are going to be people who will continue, but I think there are equally going to be people who will suddenly find the roads are too busy for them.
"There's a lot of evidence that people are reluctant to start cycling because there's all these barriers, but once they start cycling regularly one of the first questions they ask is why they didn't do it sooner."