ON a hill upon Thornhill live Inca, Manny, Mars, Blue and Kai . . . no, not a boyband but in fact a friendly pack of alpacas.
They spend their days grazing, lazing and being introduced to visitors by their owner, Debbie Maxwell.
An animal lover through and through, Debbie originally set her sights on owning llamas.
She said: "My earliest memories of alpacas/llamas has to be seeing the original Dr Doolittle film with Rex Harrison, there was an animal called a 'push me pull you' – people need to Google it!
"Never in my wildest dreams did I think I would own these fantastic animals but in 2017 my cousin sent me a link for llama trekking and that really was the start."
Having decided that alpacas were way cuter than llamas and a little less intimidating, Debbie set about researching them as a species.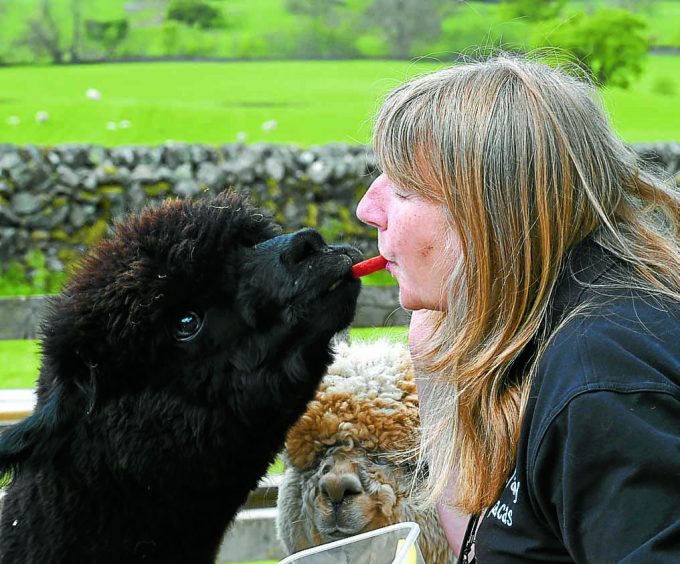 But she didn't need to venture as far flung as South America, where the alpaca originates, instead she hopped across the border to Cumbria and one of the UK's top alpaca breeders. 
She said: "I went to visit in the August of 2017, watched my first 'unpacking' – the term used for alpaca birthing – and that was it, I was hooked, project Nith Valley Alpacas was 'unpacked' as well.
"I joined the British Alpaca Society straightaway and with fantastic support from the breeders at Beck Brow Alpacas of Cumbria, our boys arrived on the farm in April 2018."
They took to life in Thornhill brilliantly, quickly forming a bond with their new owner and falling into a routine.
Debbie said: "Our daily routine starts with me shouting the boys in for breakfast. 
"Then attending to the middens in the paddocks . . . ie poo-picking. Alpaca 'beans' as they are known make fantastic fertiliser for the garden. Rich in nitrogen, it can be used straight on the soil or brewed in water as a plant feed. 
"After breakfast the alpacas go back to the paddocks to graze and I set up the barn for that day's guests."
Nith Valley Alpacas offer a range of services from alpaca treks to meet and greets and more.
"Alpacas can be very shy of new people initially so I like to introduce visitors slowly in the paddock," she said.
"The alpacas approach us first and it isn't long before they're all curious as to whether there may be treats on offer . . . they love apple."
She added: "In the paddock you get to see the herd dynamics at work with Inca our herd leader putting everyone in their place, including any humans.
"Alpacas are full of fun and happiness they love 'pronking' – the term for a certain way of running – it's a sort of bounce."
Debbie says the fluffy creatures are also great at calming hyperactive children.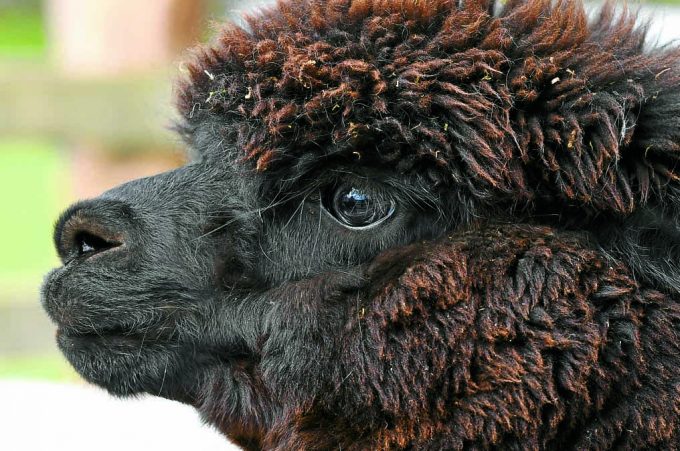 She said: "Meet and greet visits are great for young and not so young alike or people who just want to spend some quiet time with these wonderful therapeutic animals. They really are good for the soul."
She added: "Out and about visits have been very popular with social groups including visiting playgroups and nursing homes. 
"We have attended gala days, Christmas fayres and charity organisations."
And Debbie is desperate for her alpacas to be invited to their first wedding – the latest craze for newlyweds.
Discussing her love for the species, she said: "Alpacas never fail to bring a smile to faces, quiet and unassuming they have an affinity with both adults and children alike particularly those that need a little more care and encouragement."
Debbie is set to welcome three new alpacas to her brood soon and has big plans for the future.
She said: "Going forward I would like to breed but at the moment the 'boys' and I are concentrating on 'walking with a difference to make a difference' by putting smiles on the faces of all our wonderful visitors.  
"Owning and working with alpacas is a dream come true for me but the pleasure I get from seeing the happiness and joy they spread when people come to visit makes sharing them a joy."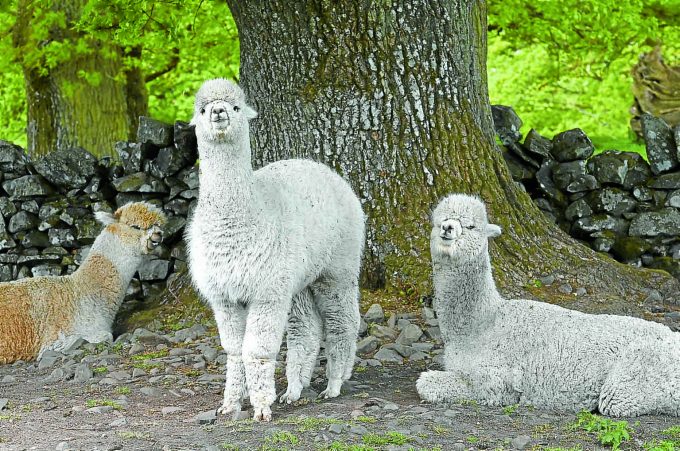 Fun alpaca facts at a glance
1. When an alpaca gives birth it's called 'unpacking'
2. Alpacas are part of the camelidae family, which includes llamas, guanacos and vicunas from South America, and Bactrian and Dromedary camels from Asia and Africa
3. The term for an alpaca running is 'pronking' – deers also do this
4. Alpacas come in two types: Suri and the huacaya. The suri has fibre that grows long and forms silky dreadlocks. The huacaya has a woolly, dense, crimped fleece — like a teddy bear — giving it a very woolly appearance. About 90 per cent of all alpacas in the North America are huacayas
5. Alpacas and llamas can successfully cross-breed. The offspring they create are known as huarizo, which are valued for their longer fleece
6. Some Andean people eat alpaca meat. In Peru, it is often served in upscale restaurants
7. Alpacas don't have teeth in the top-front of their mouths. This gives them the appearance of having an underbite
8. Alpacas have a life expectancy of about 20 years
9. They 'cush' when seated, meaning they fold their legs under their body making them easy to transport in a smaller vehicle
10. Alpacas are very clean animals. Unlike most barnyard critters that seem to relieve themselves anywhere and everywhere, alpacas designate a special spot – a bathroom area -that is used by the entire herd