The happy Lochmaben woman said yes, and the couple were married last week at Gretna Green with their three dogs helping to create the perfect wedding party.
Joking as she recalls how the couple met, Suzanne said: "'What first attracted me to millionaire Christopher Howard?' "Well, we met at a coffee morning in Lochmaben and it was instant attraction.
"I thought he was a lovely, kind and gentle man."
The couple fell in love and were engaged five months later, and it must have been true love as 68-year-old Suzanne who uprooted herself from her beloved Lochmaben and made the 20- mile move to Moffat, taking with her her pet pooches German Spitz Peppermint and Money Penny Chihuahua Pussycat.
Christopher, 71, who has two children and has been married before, is a man of many talents.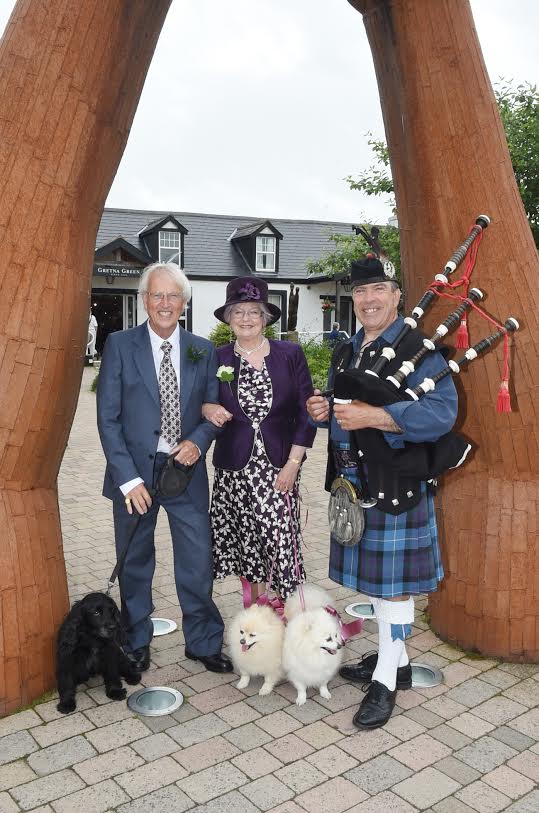 As well as being a successful property developer, which helped him earn his millions, he is also an accomplished musician and once even played on the same bill as the Beatles.
He is currently in a two-man band called Southern Strings and enjoys playing local pubs, Suzanne is always there to cheer him on and show support.
Suzanne who has been married before, is an accomplished dog exhibitor and is delighted that her two canines have bonded with her new husband's black Cocker, Molly.
She clicker trained all three to wear special bows and ribbons for the big day last Thursday.
Times ahead most definitely do not look 'stormy' for the newly weds, as Suzanne's millionaire husband has purchased her a loch side home in Lochmaben—Suzanne's favourite town.
She said: "Christopher knew I missed Lochmaben and has bought me a house on the loch as a wedding present, I am thrilled to bits as this has always been my dream.
"We will still live in Moffat but will be in Lochmaben as often a possible." She added: "We never guessed we would find happiness again and feel like we're teenagers again."