The dog show was part of a community event at Newington Leisure Centre, run by Dumfries and Galloway Housing Partnership (DGHP) and featuring face painting, tennis and games.
It was also attended by police and fire and rescue representatives, with visitors getting the chance to sit in their cars and engines, as well as the community safety team, who were topically flagging up the issue of dog mess and hanging out dog bags.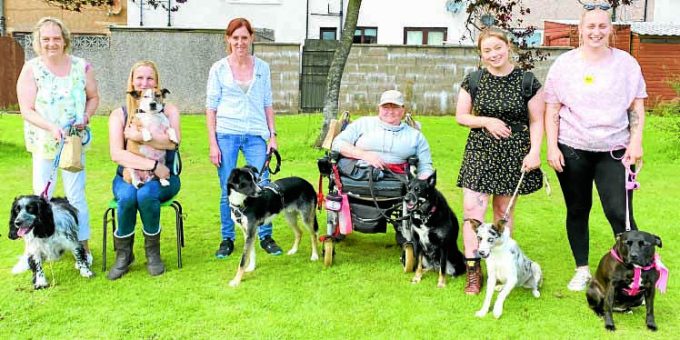 DGHP collaborated with Lost Dogs of Dumfries and Galloway for the main event.
There were six different categories, with Lee Herron having the tricky task of judging and presenting the prizes.
The winner of the Handsome Hound Award for best male dog was two-year-old Spaniel, Milo.
Due to high entries, the winners of the Loveliest Lady Award for best female dogs were Storm the Saluki in third place; Callie the Fox Red Laborador in second place; and eight-year-old Staffy Alaska in first place.
The winner of the Cool Pup Award for dogs younger than two was nine-month-old Collie, Walter.
The winner of the Golden Oldie Award for dogs older than eight was 11-year-old Kelpie, Tess.
The winner of the Best Rescue Award for dogs rescued from undesirable homes was seven-year-old Staffy cross, Rocky.
The winner of the Best Paw Shaker Award for the most well-trained dog was one-year-old Collie Stella.
And the overall winner of the show was Rocky, and owner Natalia Litherland, who won a 15kg bag of dog food, kindly donated by Two Amigos Pet Supplies.
A DGHP spokesperson said: "It was great to see so many tenants, young people and local residents turn out for our community event.
"We had 52 entries for our dog show, which was an incredible turnout.
"It was also a great opportunity for DGHP staff to meet tenants and remind them of the support and help we can offer them during these tough times."