CONCERNED . . . Eddie Rutherford and his daughter Shona Irving at Lidalia Caravan Park in Newcastleton
The 30-mile line from Edinburgh to Tweedbank, near Galashiels, is due to open in September with driver training trial runs already underway.
But calls are growing for the entire length of the Waverley route, which was axed in 1969, to be reinstated bringing services back to communities such as Hawick, Newcastleton and Longtown.
Liberal Democrat MSP Jim Hume welcomed a response he received on the subject from Scottish Cabinet Secretary for Infrastructure Keith Brown.
In a parliamentary question, he asked for an update on work to examine the feasibility of a phased extension of the line over the remaining 70 miles.
Mr Brown stated: "Together with key partners the Scottish Government continues to play an active part in taking forward the Borders Railway Blueprint for the Future.
"Transport Scotland officials have already met with partners and offered initial advice on a scoping document which will explore the possibility of extending the Borders railway towards Hawick and Carlisle."
Last year former First Minister Alex Salmond raised the prospect of the line being extended if studies justified the significant investment.
But in Newcastleton at least one business could be put in jeopardy if any new line follows the original Waverley route.
Caravan Park operator Eddie Rutherford fears his family-run award-winning site could hit the buffers if the project is approved.

MAP COURTESY OF CAMPAIGN FOR BORDERS RAIL
He and his daughter Shona Irving have invested heavily to make the four-acre 40-stance 'Lidalia' complex one of the most popular in the region.
But it is built on former railway land which includes the original Waverley Line trackbed and is located next to the original village station site, now sheltered housing.
Mr Rutherford said: "When I bought the land around 1981 from the old British Railways (BR) the chances of the line ever being reopened were considered nil.
"I've maintained that view myself down the years but now I believe the likelihood is it will come. Once the new railway is running an extension to Carlisle will be only a matterof time to increase overall passenger numbers.
"It would not only be bad for my family but, in my view, the whole of Newcastleton. Our site has high occupancy and brings visitors all year round who spend money in the village."
Mr Rutherford knows railways well and in his younger days had a career with BR reaching the rank of acting track relay inspector.
He said: "There are bridges, viaducts and tunnels which will need rebuilt. It's going to be silly money.
"Unfortunately for our business I cannot think of any good alternative locations in the village — and that's where we need to be."
Shona Irving was equally concerned.
She said: "We have further ideas for the site but with all the uncertainty about the railway it does not make sense to embark on new projects.
"The worst thing for us would be years without a final decision being made. We want to know what's happening so we can get on with our lives."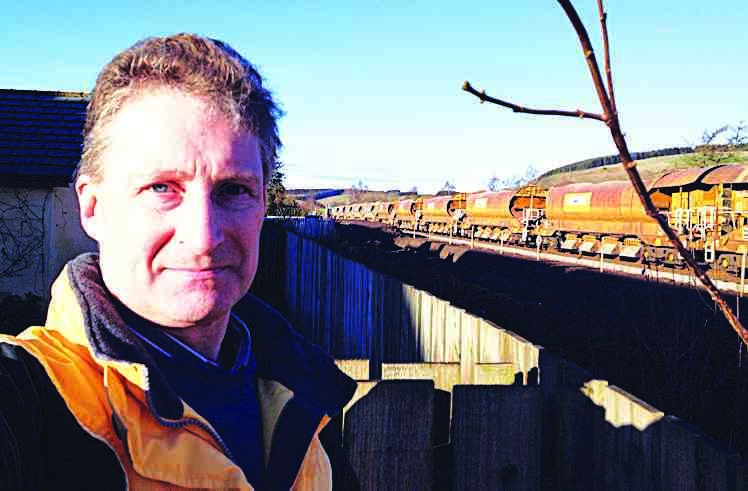 COMMUNITIES BOOST . . . Simon Walton, chairman of the Campaign for Borders Rail
Simon Walton, Campaign for Borders Rail chairman, said the group had successfully worked with local authorities to formalise protection against further development on the original trackbed from Tweedbank to Carlisle.
He said: "We've always been clear that we do not want to see people's lives, livelihoods and accommodation damaged by the project and that we would expect disruption to be minimised."
Mr Walton suggested that relocation of businesses and other properties and adjustments to the rail route might be up for consideration in any study.
At Newcastleton, he expressed the view that improvements brought by the railway would outweigh any drawbacks, providing a social and economic boost.
He said: "We're very aware that Newcastleton is a sensitive part of any future project, but I'm absolutely convinced that solutions can be found that will satisfy everyone's desires for the future.
Mr Walton stated that there was clear evidence of growing public support for the line's return.
He said: "We formed the Campaign in direct response to the economic situation in the Borders – a combination of traditional and modern industrial blight.
"We see the railway as a tangible means of bringing in much needed new opportunities and economic activity.
"Reconnecting the Borders to the rail network adds much more to the visibility of the region and to the prospects for people living and working here."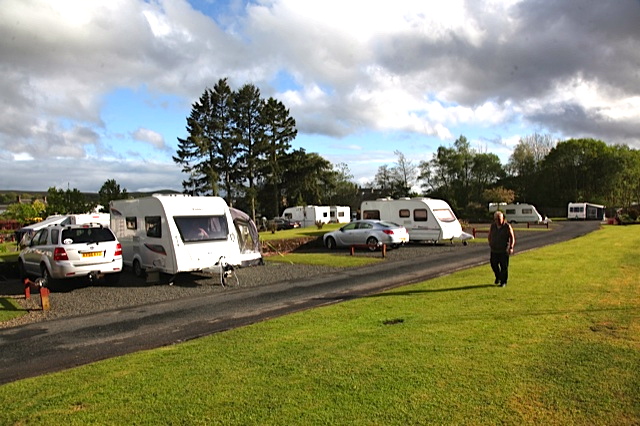 WAVERLEY LEGACY . . . the route of the old railway trackbed at Lidalia Caravan Park, Newcastleton
He predicted that experience gained from the building of the Borders Railway project could be put to good use in any future extension.
"That includes not just negotiating the civil engineering issues, but also working with individuals, communities and businesses directly affected by reconstruction," said Mr Walton.
"In the past six months we've witnessed a significant positive interest in the railway and many more people from all walks of life are now voicing their support for extending the line to Hawick and Carlisle."
Lockerbie-based railway expert Davie Wilson, who travelled on one of the final services on the original line, believed adding a southern section to the new one would be doable but only at massive cost.
He said: "There is no greater railway enthusiast than me and the Waverley was one of my favourites but realistically infrastructure challenges south of Tweedbank make it very difficult to see a business case for reopening that section.
"I absolutely wish them well, however, the massive cost of restoring breaches in the trackbed would seem to me to be prohibitive."
NEWSDESK: 01461-202417