AN INDUSTRY leading partnership has been formed by renewable companies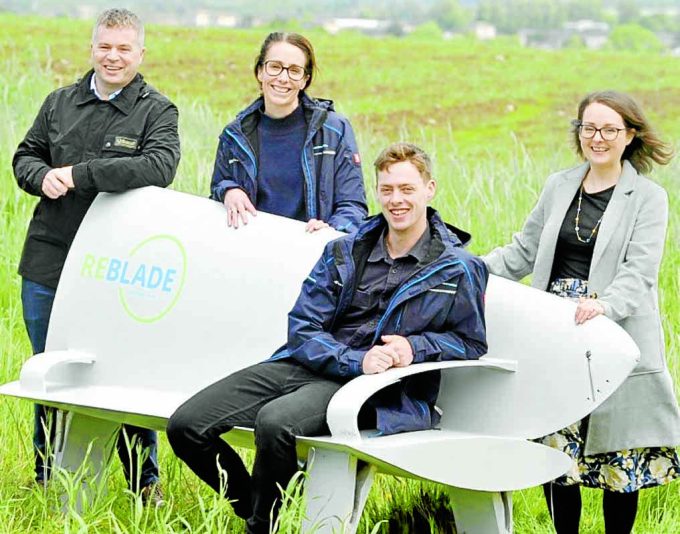 in Dumfries and Galloway to tackle wind turbine waste. Fred. Olsen Renewables and ReBlade are collaborating to investigate repurposing solutions for turbine blades from Windy Standard Wind Farm in the region. The partnership is a first of its kind in the UK. Wind turbine blades are notoriously difficult to recycle. Made with fibreglass-reinforced composites, they are designed to last in all weather conditions for upwards of 25 years. The partnership will explore repurposing the blades from Windy Standard Wind Farm and explore opportunities to create items of use in the local area such as playparks, bike racks and bus shelters. The initiative embraces the circular economy by ensuring the renewables sector is as green as possible. In turn, local jobs are also supported.
Miles McConville, Project Manager at Fred. Olsen Renewables said: "Windy Standard Wind Farm was one of the first wind farms built in Scotland. It will also be one of the first to be re-powered.
"Working with ReBlade allows us to explore opportunities to repurpose turbine blades from the site and give them a second lease of life in the local area. We are engaging with the local community to see what they would like to see delivered."
Steven Lindsay, Managing Director of ReBlade and from Dumfries said: "ReBlade has been formed with an unrelenting focus on solving the wind turbine waste challenge in a circular way.
"Its great to be collaborating with Fred. Olsen, and for me personally, its wonderful to be pioneering this circular innovation in Dumfries and Galloway."