A RADIO station in Dumfries has partnered with Vodafone to tackle digital exclusion within the community.
Lochfoot Community Radio was established during the lockdown to help people in the neighbourhood stay in touch during the pandemic.
It has now moved to a new studio and is working with the 'charities.connected' initiative to broadcast to residents of the Lochfoot area and help connect with over 500 people within the area.
Vodafone's initiative is open to any registered charity, and aids in boosting connectivity in the form of free SIM cards with 20GB of data per month, as well as free calls and texts for six months.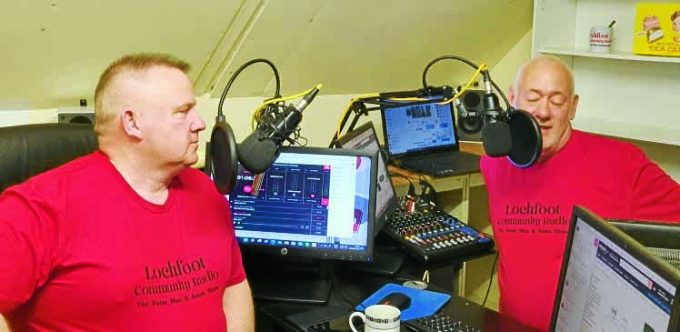 Explaining more, Kelvin Frew, at Lochfoot Community Radio, said: "The provision of the Wi-Fi connection has enabled us to move out of a small, cramped studio and into a much larger and more practical spacer within the village hall, as well as providing connection for anyone that may require it while using the village hall.
The station has over 7000 listeners, and around 1000 people listen to them on catch-up radio. The Sunday show goes live with Peter Mac and Adam between 11 am and 1 pm, above, as well as giving local news and weather. They also have the 'Lofty's Useful, Useless Facts' feature.
There are two new shows in the works, a Scottish and folk music show and a country show. The station also hosts visiting presenters Ben and Chris every month on a Saturday night.
Alongside this, the station is organising a fundraising event on June 11, which will include a live band and a disco. The money earned will be used to support the station and continue to help it grow.