DONATIONS have flooded in for a Lochmaben family desperately fighting for their seriously-ill toddler.
A fundraiser was launched by the Patterson family earlier this summer in an effort to pay for potentially life-saving treatment for two-year-old Nyia.
Last December her parents Arlene and Wullie were given the dreaded news that doctors had discovered a tumour on Nyia's brain stem.
The brave tot has experienced a host of health complications since before she was born, having suffered a stroke in the womb which resulted in enlarged ventricles in her brain.
The condition means she is developmentally delayed, causing struggles with walking, speaking and breathing.
Furthermore, she suffers with auditory and sight difficulties and struggles to control her body temperature.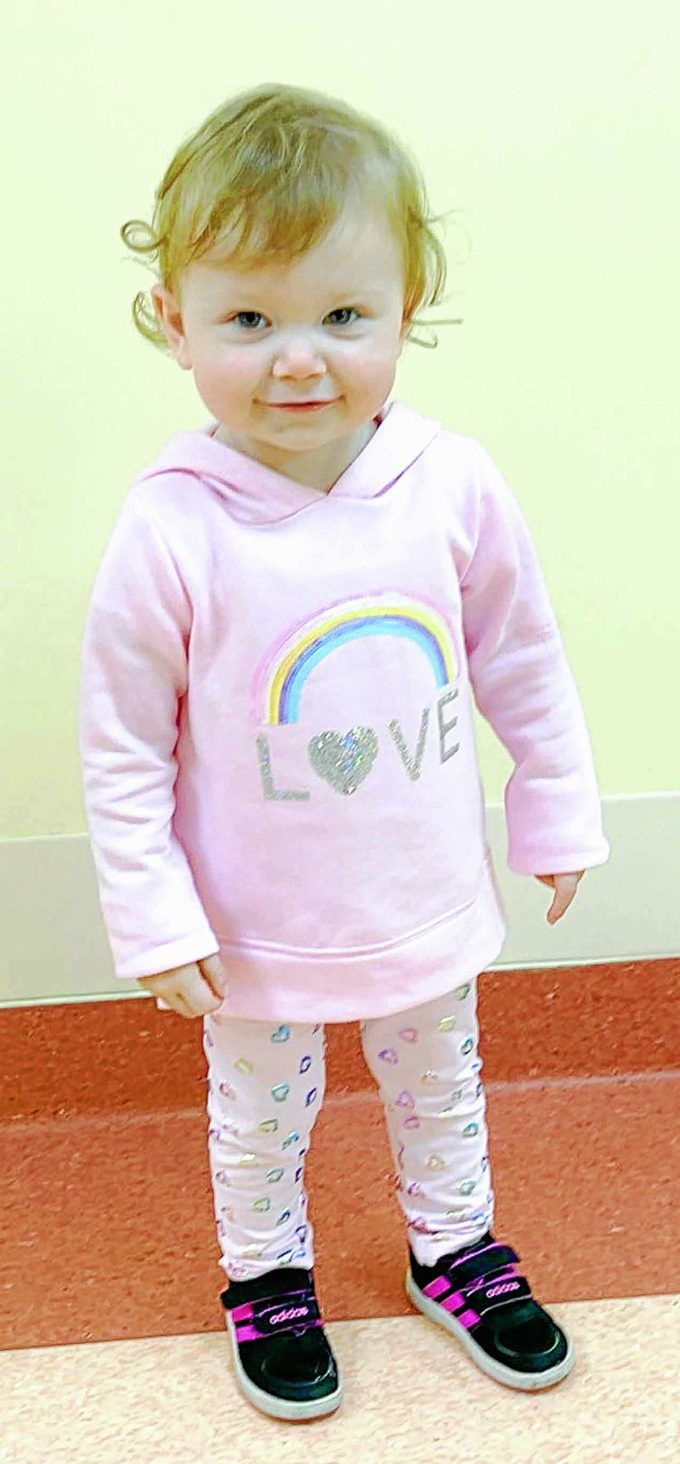 After consultants told the family at the start of this year there was "nothing they could do" to save Nyia, they began to fundraise and explore alternative treatments available privately.
An initial £10,000 target – the sum needed to pay for a second opinion from the Walton Centre for Neurology in Liverpool – has now been smashed thanks to over £7000 pledged to an online crowdfunder set-up by family friend Donna Gordon and a generous £4000 donation from the Anne Armstrong Angel Trust.
Further fundraising efforts by the The Gym at Moffat, Hugo's and John Patterson from Annan have added to the total and will cover further treatment costs, which could top £100,000.
Meanwhile, staff at Annan's Commercial Inn added hundreds to the total after holding a fundraising concert on Sunday.
Pub landlord and singer John Steel said: "I decided to call a few of my friends up and arrange a small concert.
"I've arranged larger charity concerts in the past, but not for a long time and so it was quite a challenge. I had no need to worry, every single person said yes right away.
"We had 'Rue' from Rue and the Rockets, Bob Hollis, Billy Craik, Lindsay Brockie, Leanne Grieve, Hughie Cairns and Cody Harding. Young Shaunie Craig unfortunately took ill on Sunday morning and couldn't make it.
"The day went very well and the atmosphere was second to none. We had collection tins out and raffle tickets on sale, these will still be on the bar until Friday night.
"The bar staff donated half their wages and all the acts came free of charge. I will be booking the acts in for a Friday night gig starting with Rue next Friday."
Now that the first fundraising milestone has been reached, Arlene and Wullie are receiving advice from a specialist clinical team to establish the next steps for Nyia.
Arlene said: "It may not just be the Walton Centre, there may be other options as well. We've had input from other centres in the UK and it may be that one of them turns out to be more suitable."
She described the various fundraising efforts as "phenomenal", adding: "It's absolutely blown us away – we honestly never expected anything like this, we can't thank folk enough.
"There's so many little things that make such a big difference. It really does give you hope. When you're given that news, you're scared to think of the future and then you see all the stuff that people have been doing and you think 'just maybe there could be a way'.
"We don't know what's going to happen and it's all about keeping the fundraising going and keeping it alive; the last thing we want is to go and for them to give us hope and then discover we don't have the money to go through with it."
*Donate to the fundraiser for Nyia's by visiting www.bit.ly/2ZlIMWh.