Some of them are very familiar, possibly even stereotypical of this period, such as night sweats, hot flushes and mood swings.
However, women also reported aching joints, increased anxiety, loss of libido, insomnia and dry skin, as well as much more,
Dumfries based Coral, who is an accredited practitioner of the Menopause Relief Programme, has seen scores of women suffering with the peri-menopause.
Explaining more, she said: "The menopause just happens for one day, it's when you have gone 12 months without a period. The peri-menopause is when the estrogen levels start to drop.
"Women are born with a finite number of eggs and as they deplete so does estrogen, as egg supplies slow then the manufacture of hormones slows as well and it starts to affect other areas."
Listing some of the symptoms, she said: "Mood swings is a big one, this is because the brain has been affected; there's sweats then chills, like a thermostat gone wonky; sore joints; vaginal atrophy is really common; itchy, dry skin; a dry mouth; aches; brain fog, people think they are starting dementia.
"I posted a question on a menopause support site asking for the three worst symptoms and ended up with 40 that people came up with – it really does affect every part of the body."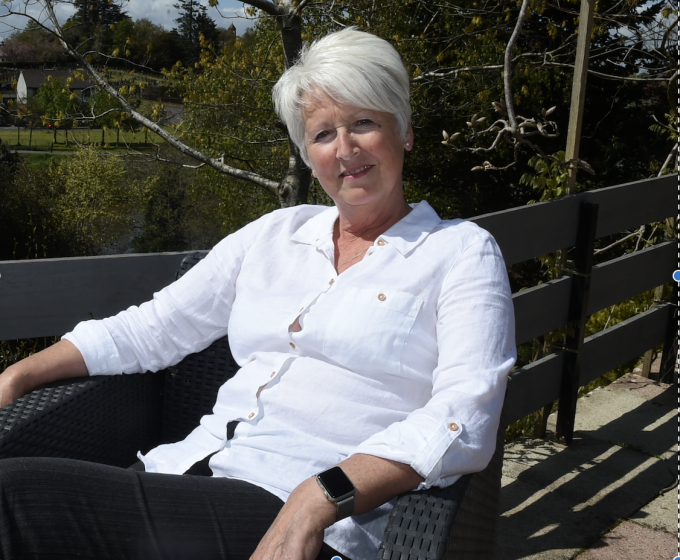 Coral explained that peri-menopause usually comes on slowly, unless a woman has had a hysterectomy or is on certain medications.
She said: "The average age of menopause, of being 12 month period free, is 52, but it really starts in the mid 40s for the peri-menopause.
"It takes so long to complete because of the cycle of eggs, the delivery becomes erratic. As long as you continue having periods you are producing eggs and will have this erratic change."
Keen to promote the positives, she pointed out it's an end to periods and noted it's often the time in life when a woman is getting back her independence after having a family.
But she acknowledged the negatives too, saying: "There's often an effect on relationships – many marriages really struggle through menopause. This is partly because of lack of awareness or consideration from the other partner.
"The change for everyone is different: some people sail through it and do not notice a thing, for others it's just bothersome, and at the extreme end it really does cause problems."
She is interested in the treatment of the menopause around the world and highlights how Eastern cultures reportedly suffer less, partly due to their diet and exercise.
Coral believes both these factors can offset symptoms, as well as the cultural attitude, saying: "It's very much a negative thing here, we do not talk about it or discuss it. People go through it on their own."
Her own peri-menopause kicked in in her mid 40s and was "fairly ok", which she puts down to being active and having a physical job.
"Uncomfortable" hot flushes and night sweats were the main issues and she was keen to try HRT after hearing of the benefits. But it was refused by her then GP and she now regrets not pushing more.
As such, Coral would like to see greater training for doctors about the peri-menopause so others don't miss out like she did.
She also tried natural remedies, like red clover and black cohosh, but found they weren't for her.
It all led her to end up specialising in menopause relief, following her training as a clinical hypnotherapist and master practitioner in NLP.
She said: "I wondered was there any way we could work to put into the subconscious a suggestion to be cool and calm to counteract what's going on with sweats and flushes.
"I found research from Baylor University in America to back it up. Prof Gary Elkens had conducted studies using hypnotherapy and menopause and found it reduces symptoms by about 80 per cent.
"It had the added benefit that sleep improved and anxiety levels reduced."
She is now the only menopause relief practitioner in this region and while numbers are still small in Scotland, it's a growing area of interest.
And Coral was delighted to be included in the Menopause Matters magazine set up by leading local and national expert Dr Heather Currie.
"Hypnotherapy is all about suggestion and imagery, so I use waterfalls, snow, coolness and embed them into the subconscious. As soon as a flush starts, the person thinks of snow, ice, cool drinks and their body wil react to that," she said.
"It's amazing how it works, it's your brain reacting to what's going on in the body.
"Everyone I work with has got some benefit from it."
She believes more knowledge is needed in society on the peri-menopause, but especially to prepare young women, educate men and workplaces, and to ensure GPs take a more holistic approach.
Coral is keen to help set up a local workshop, menopause cafe event or menopause awareness day and would like to hear from anyone interested in such a venture. She can be contacted via [email protected]
n Share your peri menopause experience and coping tips – email Fiona Reid at [email protected]