ACTOR Sam Heughan received an Honorary Doctorate from the Royal Conservatoire for Scotland (RCS) this week.
The Outlander star received his honorary doctorate in recognition of his extraordinary career and contributions to stage, screen, business, education, and literature at RCS, along with more than 300 students graduated across the disciplines of music, drama, dance, production, film and education.
Commenting on his honorary doctorate, Sam Heughan said: "I am honoured to share in this special day and would like to thank the Royal Conservatoire of Scotland for bestowing on me this wonderful honour."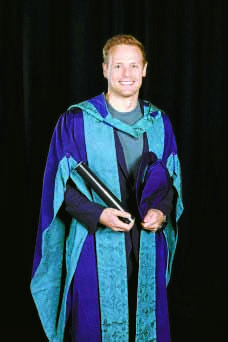 Sam was born in the village of Balmaclellan and spent his early years in New Galloway and attended Kells Primary School before his family moved Edinburgh.
Alongside his wildly successful acting career, Sam Heughan is executive producer of Men in Kilts, the travel documentary series with his Outlander co-star Graham McTavish. He has also recently starred in the Channel 4 drama, Suspect, and is the founder of The Sassenach whisky brand, as well as having established the global charity, My Peak Challenge.
This honorary doctorate from RCS is the actor's third honorary qualification after previously receiving honorary degrees from Stirling University and Glasgow University's Crichton Campus.
Congratulations have flooded in for the actor, including South Scotland MSP, Emma Harper making a motion in parliament to honour Sam Heughan's achievements, she said: "I concur with RCS Principal, Professor Jeffrey Sharkey, that 'Sam Heughan is a wonderful ambassador for the arts and Scotland, an artist of international acclaim with an entrepreneurial spirit, who passionately believes giving back is helping to support the next generation as they follow their dream' and I'd like to wish Mr Heughan well as he publishes his first memoir later this year"