A chance to get dressed up, a beautiful bride, catching up with old friends and the personal touches and surprises from the bride and groom.
And Saturday's event did not disappoint!
It feels like years ago since we last attended a wedding . . . wait, it was. We have a baby, not a social life!
Travelling to the wedding was bitter-sweet for as much as my husband and I were looking forward to the nuptials, the party and one or two (or, in my husband's case, 22) drinks it was the first time we had left our baby overnight.
We had an early start as we travelled north to Angus to celebrate with Caroline Myles and Graham Smith at Edzell Parish Church.
As usual for a wedding (well, at least for me) there was the fear that someone would be wearing the same dress (brides are generally very lucky in that respect!).
But thankfully my knee-length summery Monsoon number with a yellow and white pattern was unique among the guests.
My extravagant fascinator, one of Marie Hill's creations, was the subject of much praise from guests not familiar with her work.
Their ceremony was made special by a jointly-conducted service, a acoustic performance of 'I can't help falling in love with you' by bridesmaid Kathy Shanks and the happy couple left the church under a guard of honour with curling brushes held aloft by their former teammates before setting off in a horse and carriage.
It was then on to Cortachy Castle on Airlie Estates for a marquee reception.
As my husband admired the luscious lawns and picturesque river-side location, I clocked the potential for heel-sinking and envied the guests pre-prepared with heel protectors or flat shoes.
Soft ground and satin stilettos do not mix — but realistically I would never swap my heels for more 'appropriate' footwear.
The reception had everything you'd want — Pimms in the sunshine, canapés, a flashmob of 'Sweet Caroline' for the blushing bride, slap-up meal and heart-felt speeches making many shed a tear.
Ever the traditionalist, Caroline instructed a full night of ceilidh dancing and few escaped from taking part in exuberant rounds of the Military Twostep, the Gay Gordons, Strip the Willow and the Eightsome Reel.
It was at this point I was particularly glad I hadn't opted for a skin-tight frock — side-stepping quickly doesn't work when your thighs are bound together!
As guests danced the night away the traditions continued as we were restored with a hearty serving of traditional stovies and oatcakes and the night was brought to a close with wild dancing to Auld Lang Syne.
The day was perfect for all concerned from start to finish and I feel blessed to have such lovely friends — despite the miles between us — who wanted us to be part of their big day.
My outfit: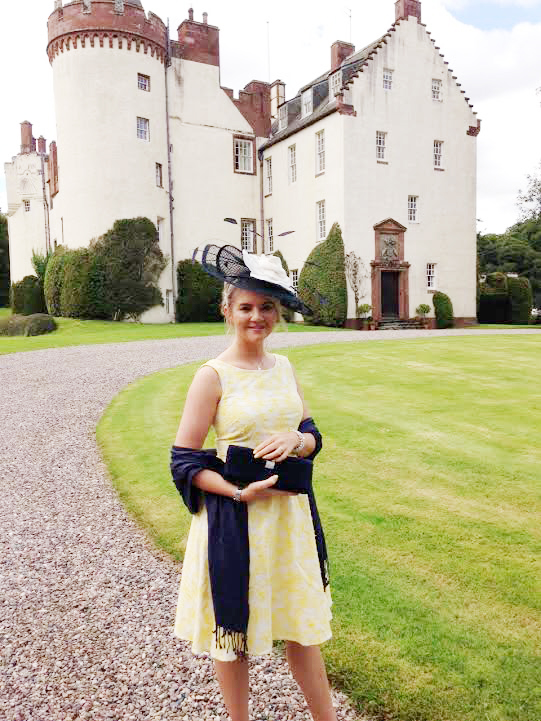 Dress – £69 from Monsoon
Pashmina – borrowed from a colleague
Shoes – £39.99 from Anne Marie's, Lockerbie
Clutch – £29.99 from Anne Marie's, Lockerbie
Fascinator – £35, hired from Anne Marie's Lockerbie
Hair – by Lisa Whannel, owner of Hair by Lisa
All the best for the future, Mr and Mrs Smith!