She was 25 when she gave birth prematurely to Stephen in August 1980 at Raigmore Hospital in Inverness.
He was stillborn and was whipped away by hospital staff before she could see or touch him, with the bereft mother left with a pile of unanswered questions.
That loss has lived with her for decades but she now has some closure after her much loved baby's remains were located and returned to her.
Sharing her story, Kate, who now lives in Clarencefield, said: "I was not allowed to see my baby nor to be given any information about him until I argued with the ward sister who grudgingly told me I'd given birth to a boy."
Describing the aftermath of the tragedy, she said: "I was in hospital, 75 miles from home, for about eight weeks altogether as I had a severe pelvic infection after losing Stephen.
"The whole experience was horrendously traumatic. For 42 years I have been haunted by fears that he'd been born deformed and I was tortured by not knowing anything about him, or having any tangible evidence of him ever existing, whilst at the same time wondering what had happened to his body."
She has always tried to keep the memory of her son alive and on what would have been his 22nd birthday she held a memorial service for him in the chapel at Raigmore.
Kate added: "Although it honoured his existence with his name entered into the Memorial Book, I continued to be tormented by my unanswered questions."
Then earlier this year, with the help and encouragement of the charity Sands and NHS psychologist Dr Fiona Beaton in Dumfries, Kate requested access to her medical records from the time.
They were no longer available but she was instead put in touch with the hospital's pathology department.
To Kate's astonishment, the chief biomedical scientist, Laura Nairne, found records of baby Stephen's post mortem and revealed that the lab still held slides of tiny tissue samples from his organs, although his body had been cremated.
Furthermore, she offered to have them sent to Kate, who said: "I was overcome with emotion at this news. I am very touched by the compassion and sympathy offered me which had been so sadly lacking back in 1980."
Stephen's journey back to his mum began earlier this week when a charity collected his tissue and DNA remains from the lab and transported them to Dumfries and Galloway Royal Infirmary. Hospital chaplain Nathan Mesnikoff then personally delivered them to Kate and her husband Peter, who would have been Stephen's stepfather, on Tuesday afternoon. They arrived in a specially prepared bereavement box with a birth certificate, teddy, candle, forget me not seeds and other keepsakes.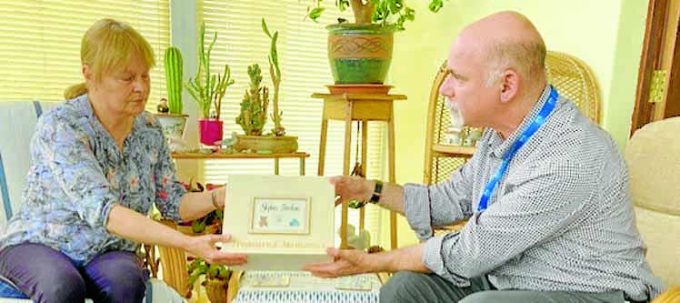 Kate said: "I was overwhelmed to find that at last my wee boy's existence has been acknowledged and recorded.
"It was wonderful but also surreal to be able to cuddle Stephen after all these years."
She added: "At last after 42 years I have learned that my baby was completely normal and what happened to his body.
"It is thought that my Lupus, undiagnosed at the time, was the reason for losing Stephen and for the miscarriage I'd had the previous year.
"Although I was denied scan images of Stephen, or seeing and holding him after he was born, both of which are common practice these days, at last I will have a little bit of my son to grieve and to take to my grave with me.
"I would like to thank Dr Fiona Beaton and Sands who have supported me through this journey, and Laura Nairne, in the pathology department of Raigmore, for searching so diligently for Stephen's records and remains and to everybody involved in the safe delivery of him to me.
"I hope my story will encourage other ladies who have lost a baby in similar circumstances to never give up searching and to seek help and support on their journey."
Kate was unable to have any more children but forged a successful career as a teacher, with a stint in the Hebrides. Her book Canna Schooldays, published last year, is the history of the Hebridien school, its teachers and community from when it opened in 1878 to 1991, when she left.