Following a day of wet weather, Gypsy the horse sank up to her chest in mud at her Mossburn Community Farm home.
The Scottish Fire and Rescue Service were alerted to the incident at 4.37 pm yesterday and immediately firefighters from Lockerbie and Dumfries, along with a heavy rescue vehicle, rushed to the scene.
They were assisted by a local farmer who conveyed their rescue equipment across two fields to reach the horse.
And a vet was called in to advise before the crews attempted to move the heavy animal.
An ice path – or sturdy inflatable walkway – was used to create a stable working platform, as well as a Tirfor – or metal winching device – which is used to pull heavy objects in challenging conditions.
Firefighters then used durable canvas straps to secure Gypsy, allowing her to be pulled ten metres by the tractor to a place of safety.
Gypsy was then transferred to the care of the vet and the loving team at Mossburn.
The Scottish Fire and Rescue Service ensured the area was safe before leaving the scene over three hours later, just after 8 pm.
Station manager Colin Wallace, who oversaw the operation, said: "This was a challenging incident. We had a large animal weighing a considerable amount trapped within mud.
"It was clear the horse was cold and tired, but it was placid and well behaved which assisted in this successful extraction.
"We worked in close partnership with the vet and indeed were assisted by a local farmer to bring this to a safe conclusion."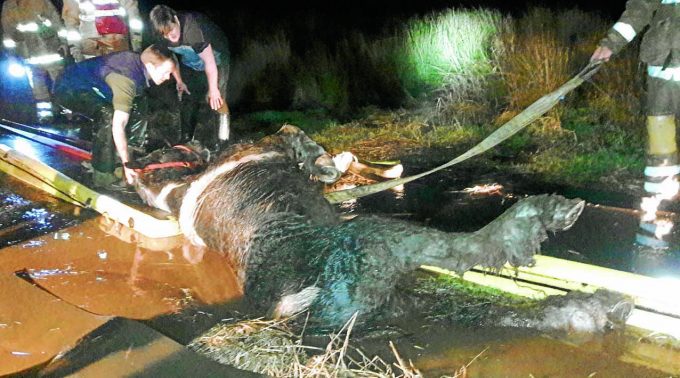 He added: "The crews did an outstanding job by drawing on their large animal rescue training.
"These are highly technical operations that involve specialist rescue equipment, designed to ensure the safety of the animal, the public and our firefighters.
"We assist at these incidents because large animals are important to the economy. We also want to avoid members of the public being placed at risk by trying to effect their own rescue.
"It was a very pleasing moment when the horse was extracted and transferred to the care of her owner and the vet."
And the team at Mossburn issued a statement via their Facebook page, it read: "We would like to say a huge thank you to everyone who helped us last night – our vets, neighbours, and especially the men and women of Dumfries and Galloway Fire Service – for their rescue of our pony Gypsy."
The community farm group said that Gypsy was largely unfazed by the event . . . reporting the horse's biggest concern was missing her regular dinner time spot and needing to have a late tea.