After 25 years of planning, hosting and participating in the event the 84-year-old has decided to take a back seat – but is in discussions to ensure that the popular rally weekend continues.
And this week he has been reflecting on his time as organiser.
Gordon and the car club he helped found, the Scottish Rootes Enthusiasts, have organised the Moffat rally since 1997 but age and health concerns have forced both parties to now take a step back.
Explaining his decision, Gordon said: "I've said I want to live to 100 and I hope I will do, but this has been 25 years and over the past couple of years I've been feeling my knees going but they're much worse now.
"I'm very much a hands on person and I never stand still for two minutes but I've had to behave myself now and if I can't put all my effort into it then I won't do it."
The idea of the rally came to him in 1997 when returning from a Hillman car event near York. Gordon said: "It's often said that the best ideas come from a relaxed mind and that's the way I was on a summer's night with the roof down coming up the motorway, not having a care in the world and it just came to me, so I had to see it through."
The first rally took place later that year after six months of work and promoting the event. In that first year there were over 200 entrants and it has been growing rapidly ever since.
Moffat has hosted the rally since the beginning and Gordon could not be more grateful for the support from the town stating: "Their hands on support is more than welcome and it means a lot and the number of comments said many, many times by the entrants is that they go to all parts of the country but never ever get the reception they do in Moffat.
"Moffat has always been on the map but we've put it on the map even more."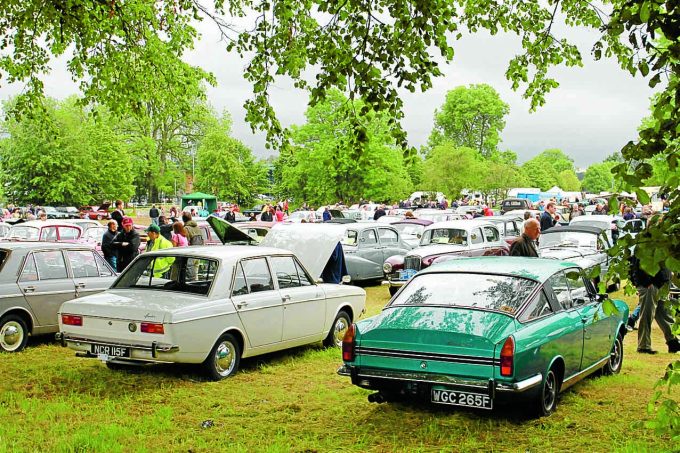 The rally has been a true labour of love for Gordon, allowing him to combine his lifelong love of cars and a passion for fundraising for cancer charities. During his time as organiser Gordon has run the London marathon twice and climbed Ben Nevis as well, raising over £100,000 in total.
However, his top highlight of the past 25 years came in 2003 when the rally was named best car club event in Britain.
Recalling that, Gordon said: "I went down to London for a presentation of a rose bowl and £1000 for the car club. So that was some achievement.
"The question is always asked, how could a small club like us do what we've done but it was the support that's come in. There's great emphasis put on financial support, and everybody needs that, but the greatest support is in kind support and money can't buy that."
n This year's rally takes place from June 24-26 and will have over 1000 entrants coming from all over Britain to celebrate the 25th year and also its return post pandemic.