IN DEMAND . . . Melvyn Bragg signs copies of his book in Moffat
The historical novel, 'Now is the Time,' his 22nd book, is set during the 1381 Peasants' Revolt in England.
There was a sell-out audience for the event in the Moffat House Hotel on Friday afternoon.
Marilyn Elliott of Moffat, promoter and organiser, said: "Melvyn gave a very interesting talk which was greatly appreciated by the audience.
"Although he has passed through Moffat in the past he had never stopped and was so impressed he went for a walk round the town."
Marilyn, who has known the Labour peer and his wife Catherine for several years, said the author also signed copies of his book, some of which are available in The Moffat Book Shop.
The 76-year-old Labour peer, who holds the title Lord Bragg of Wigton, splits his time between London and the north Cumbrian town where he was brought up.
Marilyn added that because of the interest generated she hoped that the author might attend a further book event in Moffat in the future.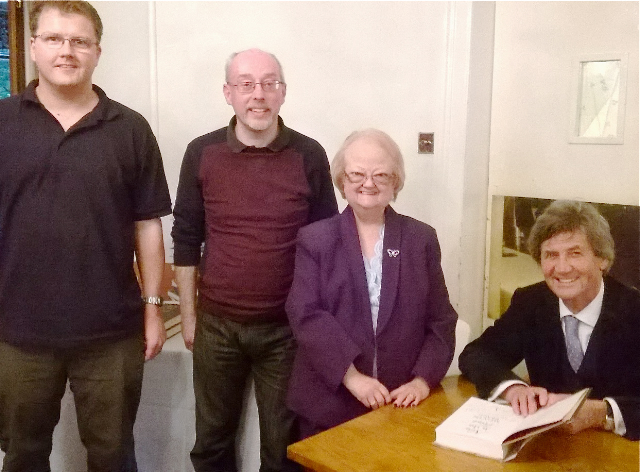 SELL-OUT EVENT . . . Melvyn Bragg with event organiser Marilyn Elliott,  local book shop owner Daren Welch, second from left, and sound engineer John Dinning
NEWSDESK: 01461-202417