The British Liver Trust are on a mission to change that and were in the region last Friday raising awareness of liver health and offering screening tests. The charity is especially keen to promote good health as nine in ten cases of liver disease can be prevented with simple lifestyle changes.
Leading last week's roadshow in Dumfries was Jonathan Worsfold and he revealed that in the UK the liver, and illnesses which affect it, do not have as high a profile as other organs and diseases. Furthermore, liver disease is the only major cause of death still on the rise, according to the trust. Indeed, newly released figures from National Records of Scotland show that between April and June this year, eight people died from liver cancer in Dumfries and Galloway and three more from chronic liver disease. However, it can be difficult to spot problems in the early stages because the liver has no nerve endings.
Jonathan said: "You might not notice the symptoms: you might be a bit tired, not feeling great, but can put it down to lots of other things. The specific symptoms present at a much more advanced stage when the liver is more damaged."
But spotting the signs early can make all the difference: "It's an amazing organ, it can regenerate if you get it early enough," said Jonathan. "It's quite resilient but it will get to the point that it cannot cope any more."
The trust is lobbying for liver disease to be considered much more in the primary care setting and during routine checks, in a bid to pick up more cases. Meanwhile, they are running the Love Your Liver campaign to better educate the public on the causes. Jonathan said: "Ninety per cent is lifestyle related and nine out of ten cases of liver disease cases can be prevented with simple lifestyle change and sometimes even reversed.
"There are three main causes: excessive alcohol consumption; carrying too much weight, a high fat diet and not enough exercise; and viral hepatitis. Then the last ten per cent is genetic.
"The liver should be squishy and spongy, but if it gets damaged with fat building up or through scarring, from too much alcohol, that kills the cells and all of that stops it performing its functions.
"About one in five people we see will have an indication that they have some sign of liver damage. For a lot of people it's a shock."
He advises that everyone can take more steps to improve their liver health and the campaign advocates three top tips: 1. Drink within recommended limits and have three consecutive days off alcohol every week 2. Cut down on sugar, carbohydrates and fat, and take more exercise 3. Know the risk factors for viral hepatitis and get tested or vaccinated if at risk.
To find out more, go to www.britishlivertrust.org.uk.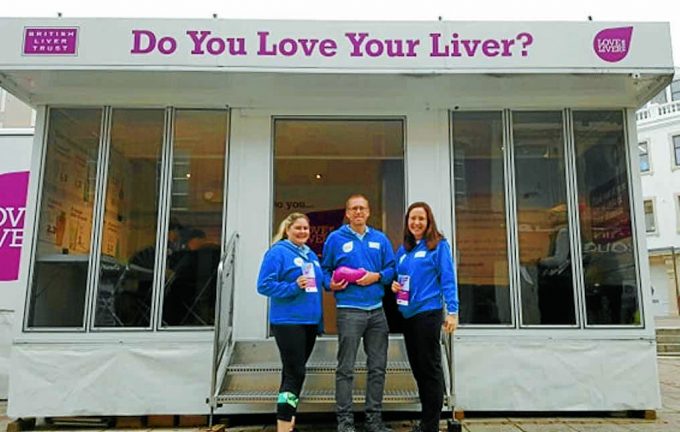 Where is the liver? Place your right hand over the area under the ribs on the right side of your body and it will just about cover the area of your liver. The liver is the largest gland, and the largest solid organ in the body, weighing approximately 1.8 kg in men and 1.3 kg in women. It holds 13 per cent (about one pint) of your total blood supply at any given time. The liver is dark reddish brown in colour and is divided into two main lobes (the larger right and the smaller left) which are further subdivided into approximately 100,000 small lobes, or lobules. About 60 per cent of the liver is made up of liver cells which absorb nutrients and detoxify and remove harmful substances from the blood.
What does it do? The liver has over 500 functions and among the most important are producing quick energy and fighting infection. However, it also helps process digested food from the intestine; controls levels of fats, amino acids and glucose in the blood; clears the blood of particles and infections, including bacteria; neutralises and destroys all drugs and toxins; makes bile; stores iron, vitamins and other essential chemicals; breaks down food and turns it into energy; manufactures, breaks down and regulates numerous hormones; and makes enzymes and proteins which are responsible for most of the body's chemical reactions.
What are the symptoms of liver disease? Liver problems develop silently with no obvious symptoms in the early stages, which can make them difficult to detect. However, early symptoms of cirrhosis can include generally feeling unwell and tired all the time, a loss of appetite, weight loss and muscle wasting, nausea, tenderness/pain in the liver area, spider-like small blood capillaries on the skin above waist level, blotchy red palms and disturbed sleep patterns. As the liver struggles to function more symptoms can become apparent, such as jaundice and intensely itchy skin.
How can you improve liver health? A good diet and drinking in moderation are the main ways everyone can help their liver to be at its best. The trust provides lots of advice on their website, as well as a screening test so you can check your own liver health. Try it at www.britishlivertrust.org.uk/screener.