VETERAN karate instructor Sensei Alistair Mitchell has spent much of the last year — like all activity coordinators — on Zoom.
But for the 65 year-old karateka, a 7th Dan Black Belt who has undergone extensive training in Japan, there's been a light at the end of the tunnel.
This week Alistair opened his first Dojo after spending 46 years delivering his classes in school facilities and church halls across the region — and began welcoming students of all abilities from Monday.
The Sensei said he's "always thought" about having his own premises and jumped at the opportunity of occupying a redeveloped space in Annan.
"Last year they were developing Provost Mills North into units," Alistair said, "and prior to it being units we looked at it and said 'what's the possibility of us getting an area in there?' and from there it was built from the ground up for us."
He added: "Before, when we were training in school, we only had one hour so everybody was together and now we've got the full-time place we can split the classes into beginners, children, and specific classes for everybody.
"It's specifically for training; it's been designed and built on the lines of a Japanese Dojo — it's not just a hall or an open space, it's specific- ally designed for martial arts training, it's got the flooring, the equipment in it, the decor and everything is the same as you'd get in Japan."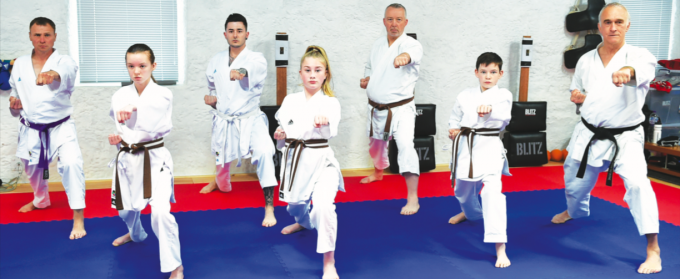 In this region, martial arts instructors don't come much more seasoned than Alistair; he's confident of being "one of the only qualified by Japan" in the south-west and, pre-pandemic, visited the is- land country every year.
"I'm a 7th Dan in Shotokan Karate, I upgraded from 4th to 7th Dan in Japan and from there I qualified as an A class instructor, A class referee and A class examiner," he said.
Furthermore, Alistair utilised his Trans-Pacific contacts for his Zoom classes during the Covid crisis and arranged over 70 live-streamed sessions with Japanese Olympic-level black belts for his students, which he called a "Godsend".
He added: "It was a thing that we thought we'd never do but it's just taken off — Zoom has taken off. Now it feels a little bit strange because we've got so much space to train in, whereas I was just training in my conservatory, so it was a little bit constrained but now we've got the full-time facility it's absolutely fantastic with the fully-matted competition floor so it's great.
"At the moment we're starting beginner classes from the very beginning so people coming in have no experience — children and adults coming in, we've got specific classes for them and then we've got classes for the more advanced ones."
The martial art "can come in may forms", Alistair stressed. "You can have it for competition, self-defence, fitness, mental wellbeing — Karate encompasses life."
And he encouraged anyone considering giving it a try to "just come along, give your- self to it and give it a go".
"Let's see where you find yourself," he added, "I started 40 odd years ago and I'm still here now, so it's a lifetime thing. A sport will only last the sporting life, whereas martial arts will last a life- time — it's an art."