TEAM 17 . . . Cornet's Lass elect 2017 Joanne Howatson with Standard Bearer John Nisbet and Cornet elect George Forrest
Four ladies – Joanne Howatson, Nicola White, Elaine Dougan and Dawn Anderson-went head to head at a town vote. And hundreds flocked to Lockerbie Town Hall last Friday night to place their votes for this year's Lockerbie Gala and ROM Cornet's Lass and Gala Queen.
And in the end just three votes separated Joanne from her closest rival, forcing a re-count, which drew the same conclusion, meaning Joanne was the 2017 Cornet's Lass.
The 25-year-old dispensing assistant at Well Pharmacy has taken part in every ROM since she was four and will be joined by Cornet elect George Forrest and Standard Bearer John Nisbet on the big day.
Meanwhile so many votes were cast for Lockerbie Gala Queen 2017 that more voting slips needed to be printed half way into the night.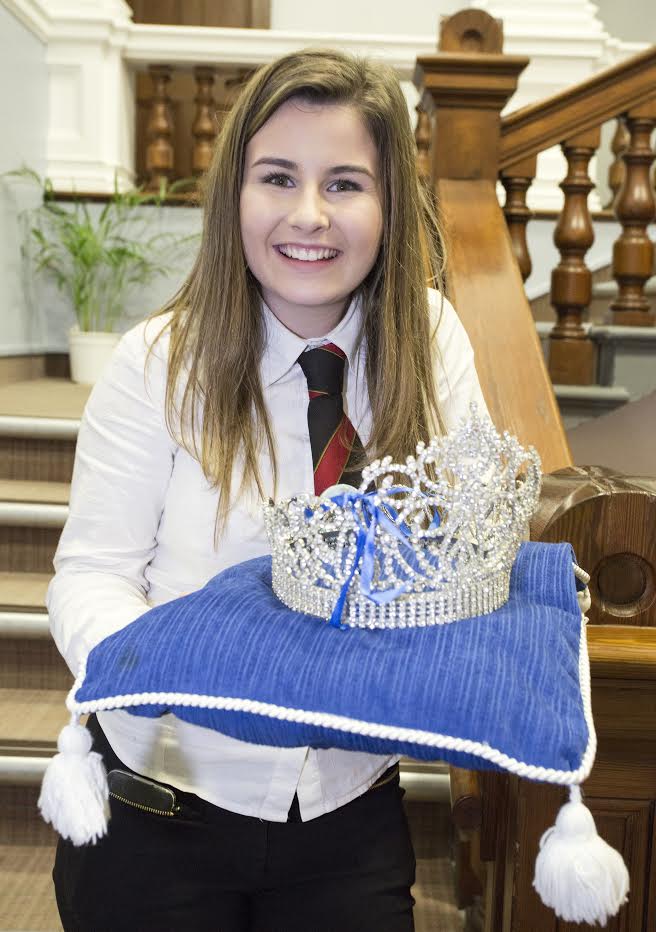 QUEEN SUPREME . . . Emily Clark 
Five girls were in the running – Emily Clark, Amy Bil, Shannon Gibson, Paige Devlin and Lisa McKinney. And it was ROM regular Emily who came away victorious last Friday night, while the other four hopefuls will serve as big attendants. Lockerbie Gala and ROM Chairman Ian McLatchie praised the well attended vote night.
He said: "It was fabulous to see so many people show their support. From doors opening until closing voters didn't stop coming. "It was a very, very close vote for Cornet's Lass, so close I'm sure it must be a record."
He added: "A huge well done to Joanne and Emily and all the girls who put their names forward. "That's our 2017 Gala line-up completed now, and what a line-up it is.Iwish all our principals from George and Joanne to Emily and her attendants an amazing year.
"Now that the vote is over, the committee have organised a packed calendar of events to see us through to June 10. Forward Lockerbie."