Eric the pekingese shot to fame at the weekend after taking home the Best in Group for Toy breeds accolade at Crufts and appearing in the live Channel 4 televised final.
But despite not winning the top title, the seven-year-old pooch has become an Internet and media favourite – even receiving major love from Youtube vlogging sensation and author Zoella, who is herself a pug owner.
Eric the Pekingese on #crufts2016 is EVERYTHING! pic.twitter.com/u4gaZLzzXj

— Zoë (@Zoella) March 13, 2016
Big names such as magazine giant Cosmopolitan have branded him 'the happiest, healthiest ball of fluff canine you ever did see' and are urging their readers to print out a picture of Eric and keep it on them at all times – to look at when they feel in need of cheering up.
Little Eric was also trending on Twitter with #eric and #ericthepekingese and has become a meme favourite.
#eric or pain au chocolate?? #crufts2016 pic.twitter.com/Llz4eQGZm2

— Tierney Brook (@tierney_brook) March 13, 2016
#crufts2016. Knew Eric was moonlighting. (idea via @mrnickharvey ) pic.twitter.com/uY8YACg2rj

— Tiernan Douieb (@TiernanDouieb) March 13, 2016
His proud owner, Mr Bert Easdon said: "Eric is a fantastic dog with a great character. I was going to retire him but decided to bring him back and this is his first show since Crufts last year.
"He's a beautiful, sound and happy dog. After all these years I still get a real thrill when one of my dogs win."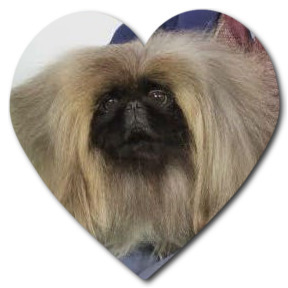 See this week's Annandale Herald front page for more on Crufts and a story on Waterbeck girl Charley Donaldson and dog Hazel's Crufts joy – out now!