THE ARTWORK of a Moffat Academy alumnus has been selected as the face of this year's Edinburgh Fringe Festival.
Printwork pieces depicting the city's iconic architecture created by Maria Doyle are being plastered across billboards in the capital, posted online and printed on promotional flyers ahead of the month-long arts fest taking place over August.
Born in Dunscore, Maria moved to Moffat at a young age and attended Moffat Academy, where she was Dux of her year – and where her passion for printmaking was born.
"It was something we'd be introduced to by both the art teacher at primary school, Mrs Carse, and also our art teacher in secondary school, Ms Young, who is now Mrs Candlish. They introduced us to printing with polystyrene blocks which is kind of a similar idea but that's what peaked my interest from early days," she said.
Maria described having her work chosen to promote the world's biggest arts festival as "surprising", having studied law at university and going on to work as a researcher.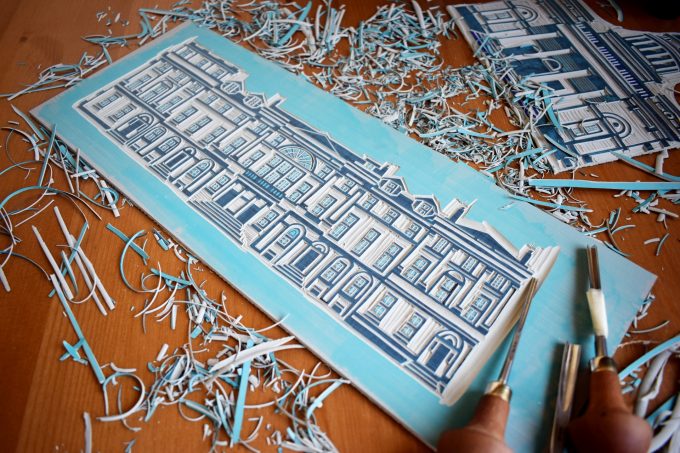 "It kind of came out of the blue a little bit. I've been doing printmaking for a few years now," she added. "I'm not from an art background, I just started doing it as a way to switch-off and it was really just a way for me to relax and unwind while I wrote my dissertation."
Detailing the artistic process of printmaking, the 28-year-old said: "You carve out a shape and then apply ink to that block and you press the paper against the block and that gives you your image.
"I sort of did it as a diary of the places I was visiting, so I've done a lot of prints of Edinburgh, there's some prints of Moffat, and there's a couple of prints of other places I've travelled."
After honing her craft and style, Maria set up a page on Instagram, where her work was picked-up by staff at Fringe Festival HQ.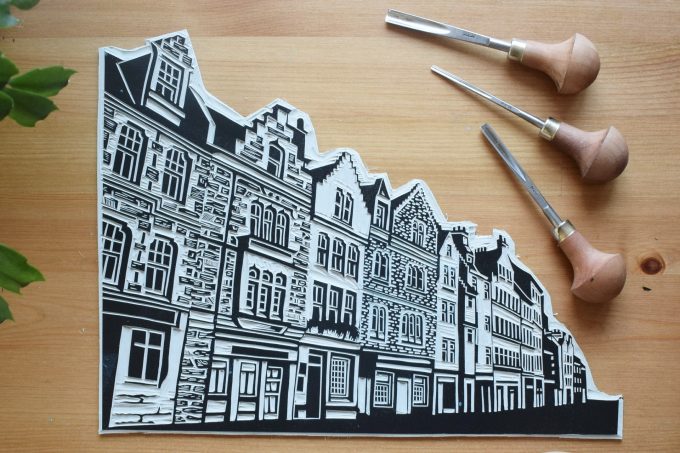 She said: "They first contacted me in around March and they wanted to work with a local artist to design the master artwork for this year's Festival for their website, billboards, social media adverts and their merchandise as well.
"Because they knew the festival this year was going to be different, online – it is actually a hybrid of online with a few in-person events – they wanted to create a visual representation of being in Edinburgh for all the people who couldn't be there. So they wanted familiar scenes of Edinburgh from the viewpoint of someone standing in the street looking up at the buildings and up at the sky so you could feel that wherever you were, whether you were joining online, you could still feel like you were there.
"They wanted to use this visual representation of the birds to represent the vivacity and energy of the fringe and everybody congregating and joining together – almost like you could be there in the clouds."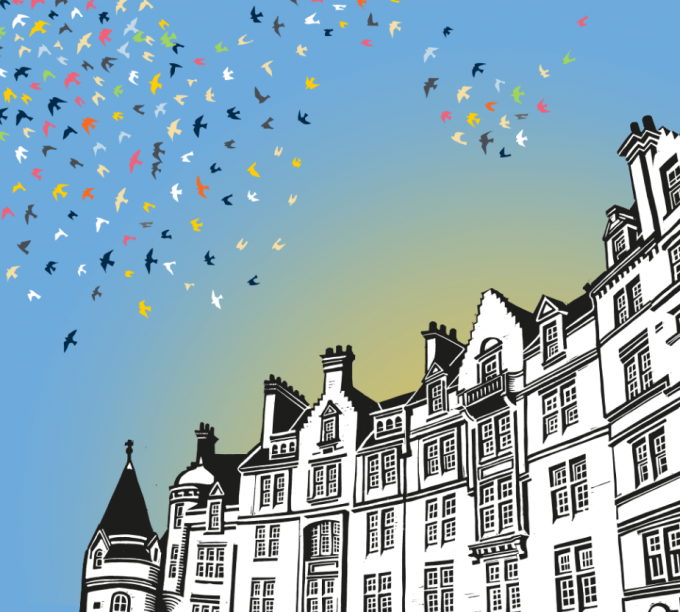 Maria, who recently moved from Edinburgh to Fife, is currently working as a full-time researcher for children's charity, Together, where her role entails assessing how new laws passed by the Government will impact children.
She said juggling her job with creating the prints required her to work "into the wee hours" to get them handed in on time.
Earlier this month, the artist visited Edinburgh city centre's new shopping complex, St James Quarter, where the first promotional billboards for the festival had been erected showing her designs.
"I had to go along," she said. "It was quite strange seeing something I'd made in miniature blown up to hundreds of times the size – to see it a lot bigger than me. It's great they're supporting local artists and independent folk."
 Follow Maria on Instagram and Etsy by searching @mazprints.