Although the Posthorn is currently closed, Liz Bone and Joyce Henderson were in to carry out cleaning and waiting on a delivery.
Explaining the dramatic events, which occurred just after 3 pm, Liz said: "Joyce was getting ready to go home and I was standing cleaning jewellery at the counters and the next thing was I just heard a bang.
"It happened so quickly. We did not know what was happening."
She was thrown to the floor and upon getting up saw the silver Mercedes which had smashed through the front window.
The shop was covered in broken glass and damaged stock scattered everywhere.
The pair called the police and emergency services were soon on the scene to assist them and the driver.
They were not allowed to leave the premises for about an hour until it was made safe.
In that time word spread and Liz's nephew, who knew she was at work, rushed up the street to check on her.
The popular gift shop was originally due to reopen later this month, when restrictions are eased, but those plans have now had to be put on hold.
"It will not be open for a while, there's a lot of structural damage," said Liz.
But she is grateful no-one was seriously hurt and added: "I just think I have never been that close – and that lucky.
"Thankfully nobody was hurt, it could have been ten times worse. If it had happened later all the school kids would have been on the street.
"You're better laughing than greeting. As much as it's a disaster, you could not write it. This is like something you watch on the TV."
Meanwhile, 999 crews were busy again just 24 hours later when a lorry snagged a cable stretching across the High Street and wrenched it from its fastenings, leaving a sandstone block teetering above the pavement.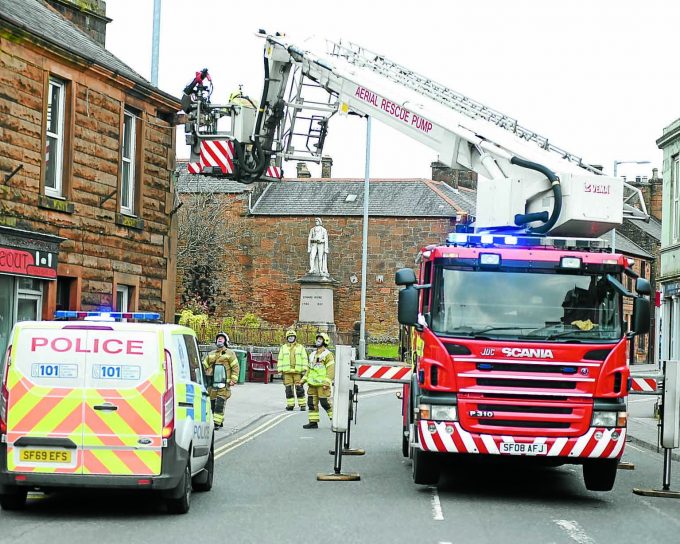 Fire officers were called in to remove the 40 kilo stone before it crashed to the ground.
The incident happened at about 4 pm when the vehicle, thought to possibly be a hay lorry, got tangled up with the wire for the Christmas lights. It is attached to a tether on either side of the street, which is drilled into the stonework of a house in between the Old Parish Church and The Commercial.
Owner of the affected property, Andrea Hodgson, explained the wire has been in place for 15 years, or more, and is used every year for some of the festive display.
She said it was put there by Dumfries and Galloway Council, but does not recall them asking for permission. So, the Hodgsons are now trying to discuss liability with the local authority.
As such, they have not yet been able to ascertain the full extent of damage to the building and work out what repairs will be needed.