Pride is celebrated around the world from Dallas to Dumfries in an effort to commemorate the Stonewall riots, the June 1969 events that are considered the turning point in the gay liberation movement. And to mark pride locally, chief reporter Amanda Kennedy sat down with the enticing and hilarious Devine Tension, a drag queen from Dumfries to 'spill the tea' on life as a young drag artist and the pros and cons of being a countryside queen.
AT 6'4 — 6'10 in heels — Devine Tension is larger than life.
The 21-year-old, real name Dillon Colthart, was born in Dumfries, while alter ego Devine Tension was conceived in London 18 years later.
Nowadays drag is very much evident in mainstream media, present on TV screens thanks to RuPaul's Emmy award winning TV show and crooned about by the likes of Taylor Swift in her latest track 'You Need to Calm Down' — a lovesong to her LGBTQ+ fans.
This year's theme at the highly anticpted Met Gala was even 'Camp: Notes on Fashion' — featuring many a man in a frock.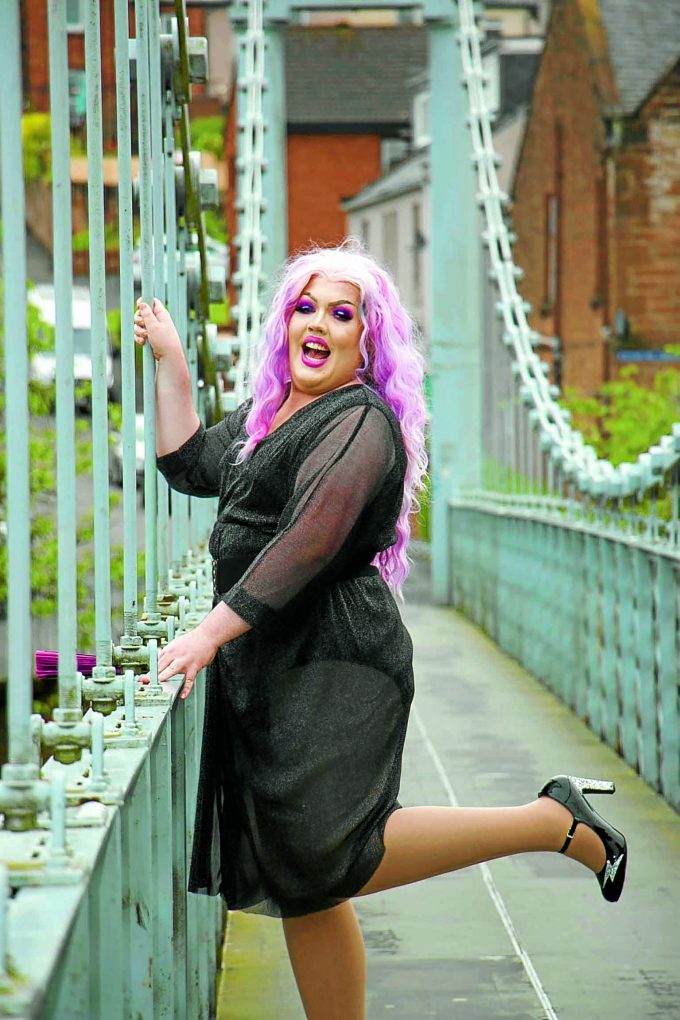 But flashback to the early '00s and Devine's earliest memories and first dabble into the world of drag actually came from a source closer to home . . . local pantomime productions.
She said: "The character that was most interesting to me was always the 'Dame'. So colourful and charismatic, I was constantly inspired by their confidence. And this was before I came out as a homosexual man!"
But it wasn't until the bright lights of London called and Dillon began studying at the Royal Central School of Speech and Drama that Devine was born.
She said: "It was freshers week at university in a drag bar in Camden that I truly discovered the underground grit and glamour of the drag art form."
And it was friends that helped push Devine Tension into this world.
"I was encouraged by those around me to get into drag for the first time. At 18 years old, I bought my first wig, first make up kit, first pair of high heels and first outfit and performed to a medley of pop anthems at an event named 'NWQ' – organised by the university's LGBTQ+ Society," she said.
"It was exhilarating. From there, Devine blossomed into the character she is today."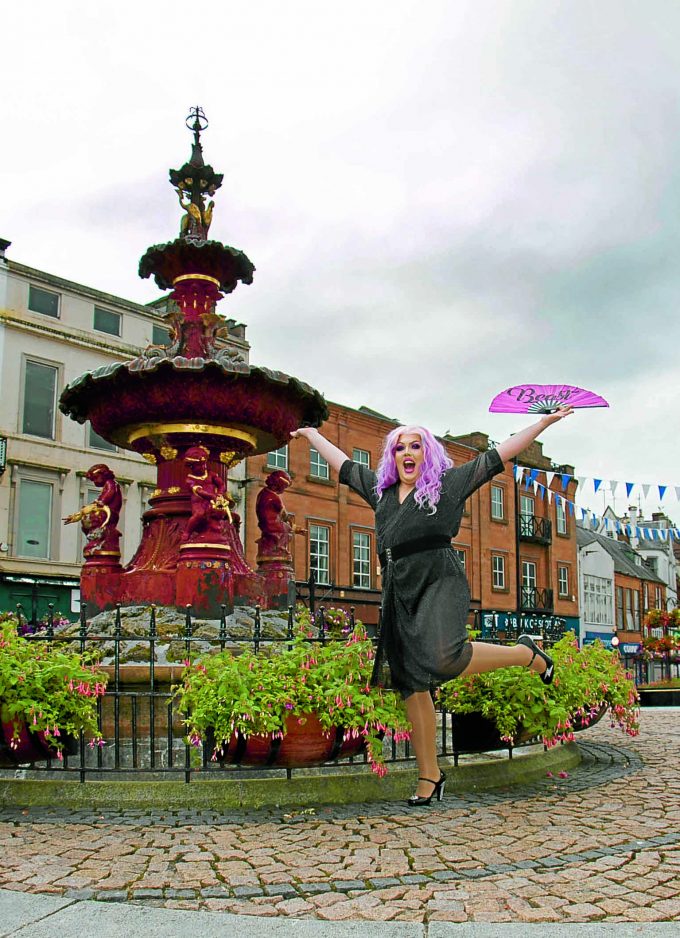 Friends and family embraced the alter ego wholeheartedly, Devine said: "My biggest supporters have been my close friends and family.
"There has never been any judgement or embarrassment to be around me in drag. They come and support every gig; from Queer Haggis at Big Burns Supper, to charity events in a community centre.
"They are also my biggest critics, other than myself. They allow me to grow and develop in ways I never thought I could.
"Each time I get on that stage, I strive to be better than ever, and elevate my performance to the next level, and it's thanks to their support that I am able to keep pushing."
Devine is fierce, fabulous, fearless and filled with pride. All qualities that Dillon also possesses.
"Those who know me as Dillon will probably tell you that Devine is merely just an extension of my personality.
"I'm already a big personality, with a lot to say and unafraid of my queerness.
"Devine is just everything that I already am, but elevated, and about six inches taller in those heels!" says Devine.
She added: "I've never seen a massive separation between myself and Devine."
But drag hasn't always been plain sailing for bubbly, uber confident Devine.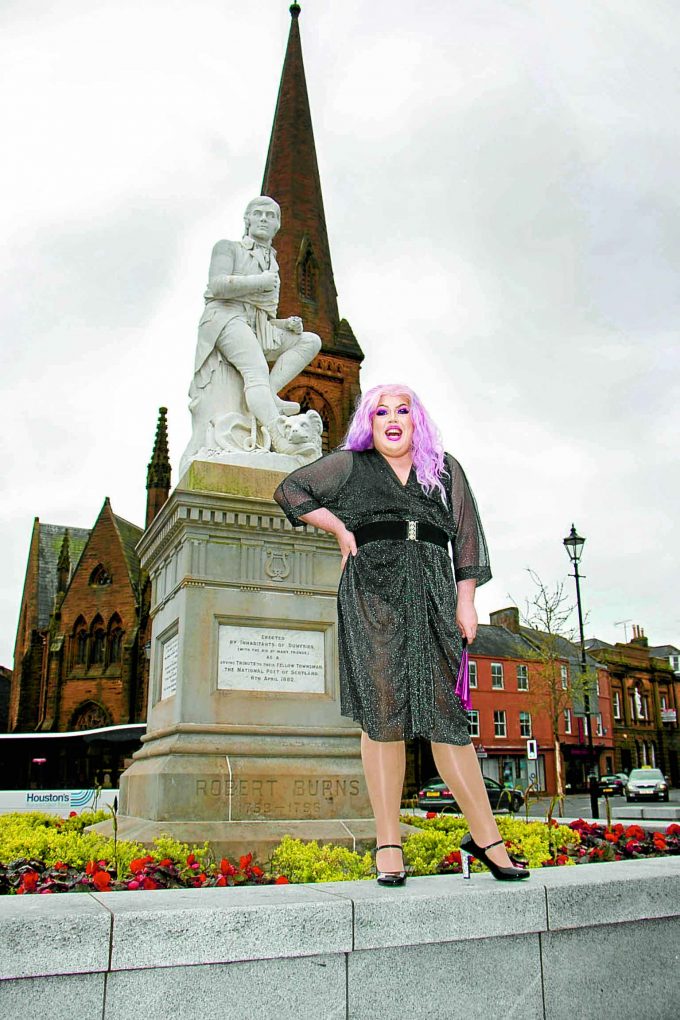 "There will always be that moment before you present yourself in drag to the public for the first time that your mind races with potential judgement, comments that could be made, the fear of failure and being booed off stage.
"That's also known as overthinking. For me, the key is to relax, and remember why you are doing it."
The queen says her biggest obstacle used to be herself.
In 2018 Devine performed in Dumfries town centre in front of a daylight audience and bringing her act home took bravery and nerves.
She said: "I was constantly thinking about what others would think, particularly when I brought Devine back to Dumfries. You soon realise that having pride in how you look and feel is far more powerful than those voices in your head telling you that you can't do it.
"Drag makes me happy, it gives me a different kind of confidence. That is what I have to remember every single time I become Devine."
At only 21, Devine Tension's career is just beginning.
Asked what her 'end goal' is, she said: "For me, there isn't necessarily an 'end goal' as such.
"I'm constantly developing my craft. I am by no means polished, or better than anyone else.
"I'm trying to navigate this world in the same way most other queer young people/adults are."
And she'll never forget her rural home and has big plans for growing and nurturing LGBTQ+ talent in Dumfries and Galloway.
She said: "I plan to eventually develop a production company/agency which will create opportunities for young aspiring queer performers who feel as though there is no market for queer performance in rural areas.
"Let's let Dumfries see more of the wonderful art the LGBTQ+ community produce, beyond a single event.
"Those people who are doing amazing work with LGBTQ+ youth in the town are often not recognised for their efforts, and that is something which need to be changed.
"There is still a need to address LGBTQ+ issues, feelings of isolation, and discrimination, especially in today's political climate. So, to answer the question, my 'end goal' is to constantly develop, both in drag and activism, rather than find somewhere to finish this journey."
She would also love to see a LGBTQ+ nightclub venue spring up in toon to provide a safe space for budding queer performers to flourish.
She said: "Let's book drag performers into our already established bars, clubs and functions.
"Karaoke nights hosted by queer performers, drag bingo, lip sync battle nights, cocktails and a show . . . the possibilities are endless.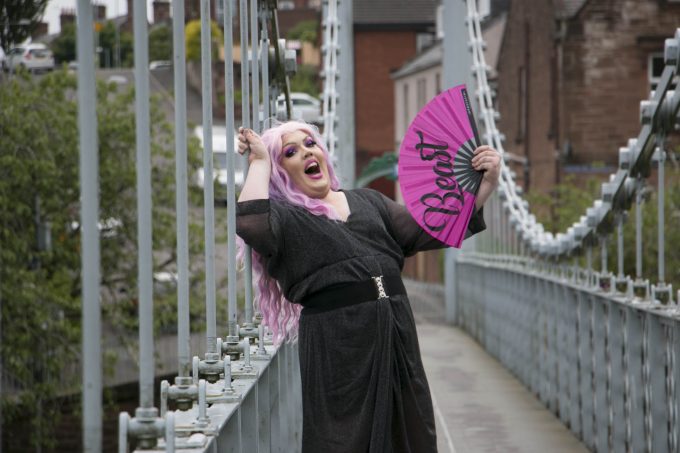 "Queer performance is loved by all, regardless of your sexuality or gender identity. People in this town like to see something different, they like to be shocked, which is why events like Queer Haggis constantly sell out. We need more!"
Offering her closing remarks, Devine says she wants to send a message of kindness to all — straight or queer.
Remembering what it's all about, she said: "Under the bright lights, glitter and rainbows of pride month, let's not forget how Pride began, with the countless individuals who put their lives on the line for LGBTQ+ liberation during Stonewall."
She added: "Pride is a protest. A time for us to be fabulously queer. So celebrate . . . be kind to one another and stay fierce regardless what anyone says, because your existence is valid."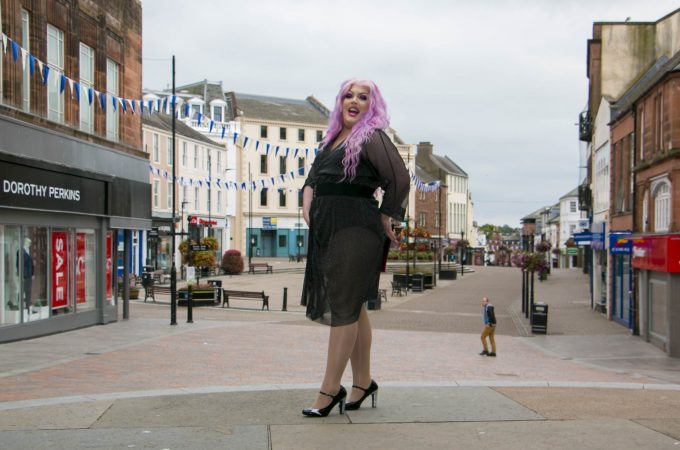 With special thanks to . . .
Model: Devine Tension – @tensiondevine
Make-up: Ryan Blain – @ryanxblain
Photography: Ryan Jardine – @ryanjardinee