A WOMAN who was trampled by a herd of cows in Lochmaben says she's lucky to be alive.
Lisa Twiname was walking through the field from Mill Loch to Lochhead Cottages – which has a public right of way – with her six-year-old labrador Parker on Sunday when the terrifying ordeal occurred.
Lisa and her dog were surrounded by adult cows, which moved in closer whereupon Lisa says three of them pushed her to the ground, stood and rolled on her.
This left her with multiple injuries including two broken ribs, numerous bruises and cuts.
Lisa said: "I have done this walk many times before and usually they will have a sniff at Parker to make sure I'm not stealing a calf, as he is a big dog.
"This time I ended up with a semi circle of adult cows facing me and moving in closer.
"I was trying to remember the rules to not run or they will run with you and if you walk they will walk as they are curious.
"I decided to make my way back to the gate I had come through and I was turning round.
"That's when they pushed me to the ground and at least three of them attacked me, stood on me, rolled on me. I have suffered two broken ribs and am head to toe in bruises and abrasions.
"I'm very lucky to be alive is the way I look at it. All I could do was scream and hope that someone would hear me."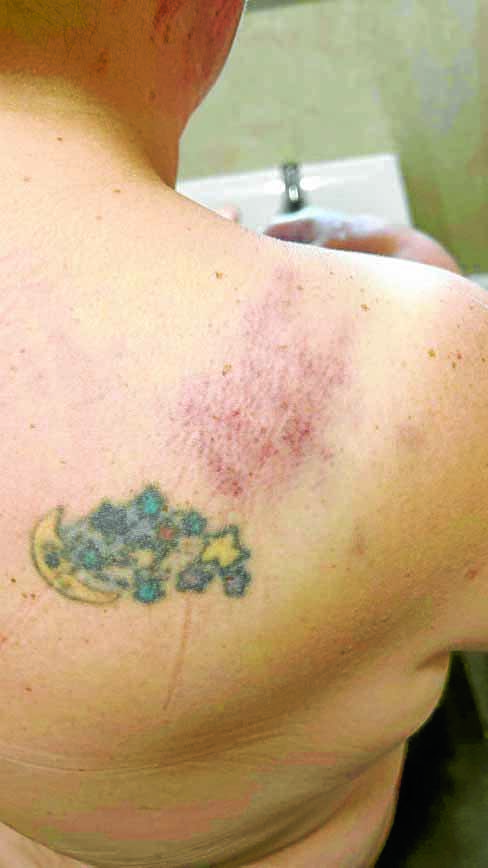 Thankfully for Lisa, there was a lady in another field who heard her pleas for help and she was eventually taken to hospital.
Lisa – who is a HGV driver – added: "The lady had phoned people in the cottages to come and help me which I will be ever so grateful for or the outcome might have been different.
"There was no sign up at the gate about the cows and calves, but I believe the farmer is putting them up today. I'm not sure who will have informed the farmer about what happened."
And Lisa has advised others to keep their distance and be wary about crossing fields with cows in.
"My message for everyone is to not walk through the field as who ever might not be so lucky to come out alive," she said.
"Parker never left my side during the incident and even when I tried to take him off the lead to get him to run away, he didn't.
"He used to kiss the cows we met on walks but I doubt he will now."
The incident has been reported to the Health and Safety Executive.