Bill and Rita Porter from Rigg were woken by a large bang early last Friday morning. And they were shocked to find a large Royal Mail truck had hit their home.
Bill, 82, said: "There was this Royal Mail truck outside, broken sandstone everywhere. "He took a bollard out with his van just outside the door, then came flying through into the house.
"When we looked outside our top floor window you could see the top of the truck, that's how big it was, huge."
The couple's living room has now become a no go zone, as all the carpet, furniture and remains of the room needs to be removed due to smashed glass everywhere.
But he believes they had a lucky escape and said: "We were thinking about making the room it crashed into our bedroom soon, as we struggle with the stairs.
"We were lucky to be sleeping upstairs."
And he's unhappy about the response from the emergency services, saying: "No police, paramedics or anyone came to see if we were ok or checked us.
"They never even popped in to see if we were ok, even though it hit our house."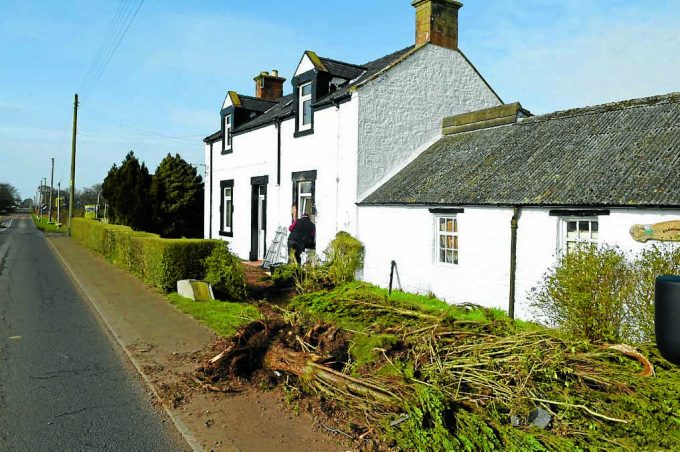 Commenting on the incident ,a Royal Mail spokesman said: "Unfortunately early last Friday morning, one of our small trucks was involved in an accident on the B721 as the driver swerved to avoid an animal on the road. The driver was shaken but not hurt.
The vehicle went through a hedge and scraped along the front of a house.
"We are still investigating this matter."
Meanwhile, a police spokesman said: "A call was received at 4.53 am on March 10 and the police attended.
Upon arrival a Royal Mail van was discovered in the garden of a house with the vehicle against the wall.
"The driver complained of injuries to his leg, and paramedics were called, but no treatment was required.
"The police then spoke to the home-owner and received a statement off him.
"When the vehicle was recovered, it was noticed that there was structural damage to the building, especially to the lower floor window.
"Traffic officers assisted, checked the vehicle, and removed it."