A NEW state-of-the-art stargazing facility has had its grand opening in Moffat.
The Community Dark Sky Observatory cost £34,000 to build and has been set up by Moffat Astronomy Club.
It will begin welcoming members of the public next month, free of charge.
It comes five years after the town was granted with Dark Sky status, recognising the burgh's unique position for observing the night sky.
Club members and esteemed guests gathered to officially open the observatory on Saturday. Cutting the ribbon was Scotland's astronomer royal and professor of astrophysics at Edinburgh University, Catherine Heymans.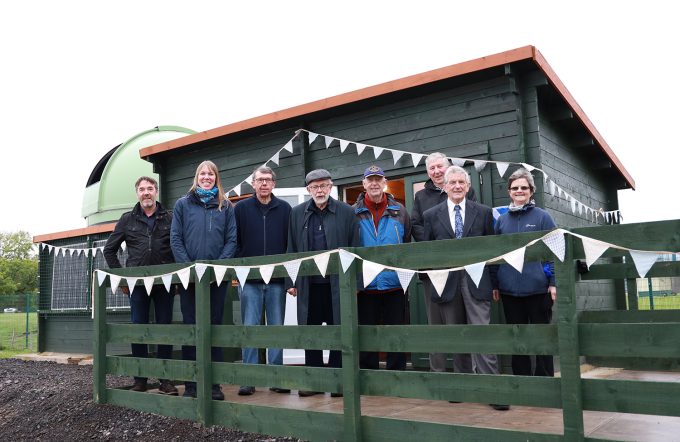 Astronomy club chairman Jim Connechen said: "Catherine gave an inspirational speech and having her there made quite a difference."
He added the opening is "a long time coming" following multiple pushbacks due to the pandemic.
"It took us a long time to find a site and we had many false dawns in that," he said. "We were determined to put it in Moffat as that's where the Dark Sky award was granted to. We raised funds fairly quickly, so we had the money ready to start building the thing."
Jim emphasised the observatory, which sits in a field south of Moffat Academy, is a facility for the entire community.
"It isn't just something for the club and its members to enjoy. Although we certainly will enjoy it, the aim was to build something in the community that would be for the people and would be accessible to local people, in particular young people and school children," he said.
"I think more people are becoming aware of the importance of having dark sky if you want to raise your eyes up – even without a telescope – and begin to appreciate the heavens more and see the Milky Way, for example.
"We will see the stars and the Milky Way, the planets in our solar system and we'll be able to see with our telescope much beyond that into other galaxies and nebulae.
"We'll be doing astronomy and astrophotography part of it as well; we hope to run evening sessions on that, we've got two guys who are very good at that."
The observatory will be free to access and run by club members, whilst relying on donations for funding.
A booking system set to go live next month will allow people to arrange visits to the facility.
Jim explained the club has already received a high volume of enquiries by email.
He said: "We'll need to test the water with it, so for the first six months we'll be assessing the demand, but we are limited in the resources we've got because we've only got a certain number of volunteers. We also know there's a demand from Moffat Academy and we're really, really keen to start meetings with the Academy soon to see how we can work this out."
To find out more, go to www.moffatastronomy.com.