IT was 'cheers' all round as pints were pulled again, cocktails mixed and wine poured at many of the region's pubs on Monday.
Trading finally resumed for the hospitality sector this week, albeit still with some restrictions.
And outside areas, which are the only places where alcohol consumption is currently permitted, were bustling throughout the first day back.
Some venues had even decided to adapt to the measures by constructing new beer gardens from scratch.
Owner of Sands Snooker Club in Dumfries, Val Finnie, has transformed the previously unused area at the rear of the Whitesands premises into the town's first 'tiki bar'.
Val said she put "the last of the cash" into creating the beach bar-style extension to make up for lost footfall caused by the ongoing closure of snooker and pool halls, which are not set to open again until June.
She added: "We needed something to get us through the summer and obviously we're not allowed to open inside until June anyway. We've been at it since last year, it was derelict, just an old warehouse. It's been some job."
She continued: "But here we are, we've done it, it's been a lot of hard work and I'm sure it'll pay off.
"I've got new staff, I've got new drinks and hopefully we'll be there for the weekend – we're sold out."
Friends Michelle Williamson and Sharon Mackay were amongst the tikki bar's first ever visitors.
Michelle said: "It's beautiful – I love it, it's really nice."
Sharon commented the refurbished spot is "like a cheeky beach in Benidorm".
She added: "It's good to be out; me and her have been friends a long time and we've only had a couple of drinking sessions, and it's not the same in the house or in the garden."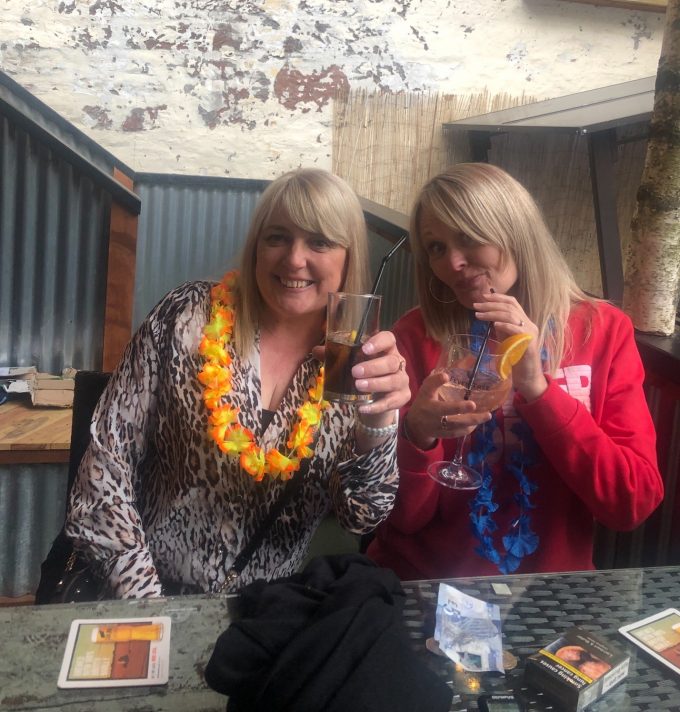 Meanwhile, at the Granary on Loreburn Street, pals Mark McDonald and Derek McCubbin were jubilant to be able to meet up for some pints at their local again.
"It feels brilliant, just really good," Mark said. "I've just missed the banter in the pub, the crack with your mates. It's a big back step back to normality, I've had the jag and things are looking better. We're in the same bubble so we could sit in the garden and have a few pints, but it's not the same as sitting in the pub."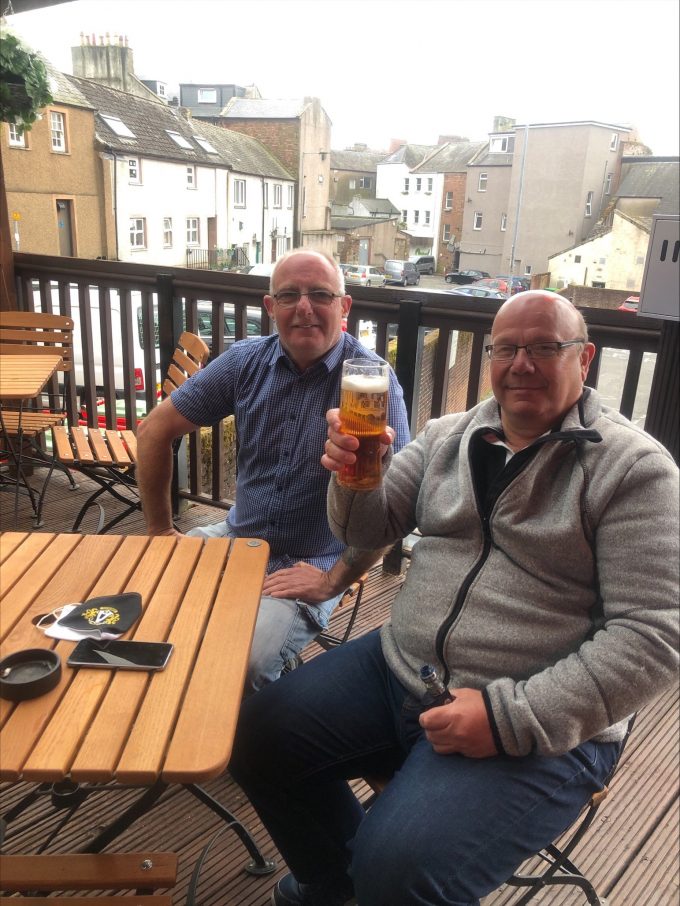 Derek added: "The whole thing's moving and we're getting back to normality. The vaccine's going really well, everything's going to happen and we're on course now. The light at the end of the tunnel is getting brighter every day. Time's got to move on now, it's time to take a step forward. I do the taxis and I know what it's like, it's been hard – everbody's had it hard. But it's up to us now, it's a relief."