MISSION ACCOMPLISHED . . . Paul Bennett, Beck Burn Wind Farm site manager
---
The nine turbines at Beck Burn on the Solway Moss, between Gretna and Longtown, have been constructed over the last 12 months.
They now dominate the horizon for travellers heading east towards Gretna on the A75 and are clearly visible from the M74.
When DnG24 visited the site final tests were being carried out on the last turbine to be completed.
Operators EDF Energy Renewables state that the complex will be capable of producing up to 31 megawatts of power, equivalent to the needs of 17,500 homes.
The wind farm is within a long-established commercial peat moss, which has continued harvesting operations during the construction period.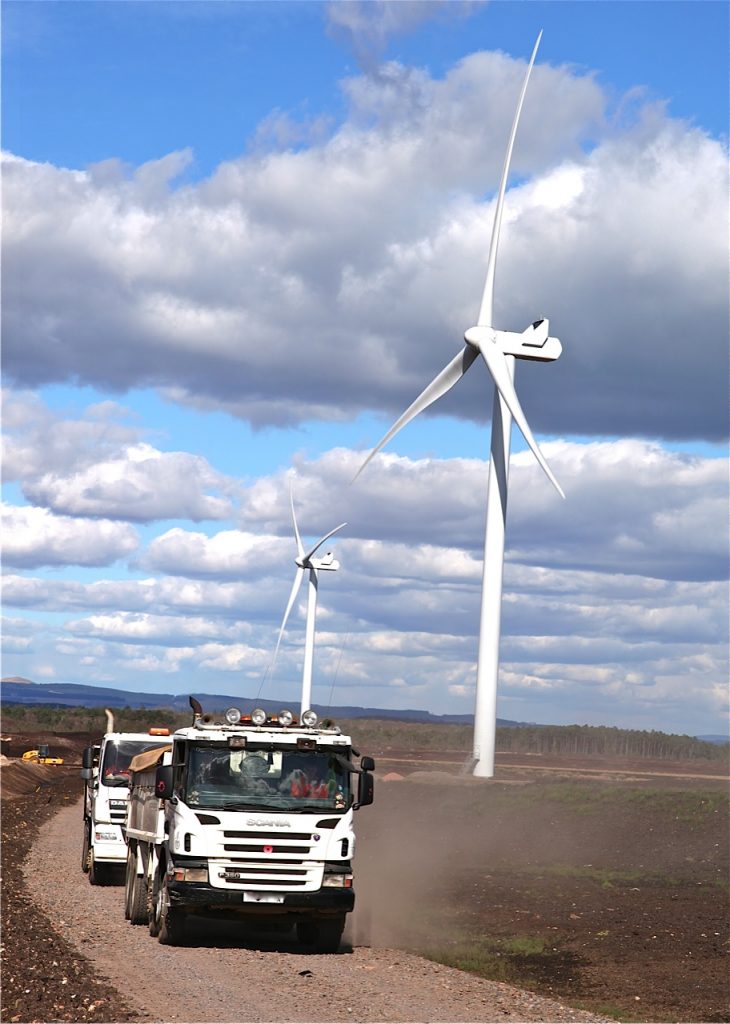 Roads with an 'environmentally friendly' surface have been built across the protected habitat to provide access to the turbines.
A spokeswoman for EDF Energy Renewables explained that everything appeared set for the wind farm to become fully operational on schedule during the coming few days with most turbines already contributing to the national grid.
She pointed out that there would be a dividend for community groups on both sides of the Scotland – England border during the lifetime of the wind farm.
The spokeswoman said: "The fund has a total annual value of £155,250, index-linked, and is administered by Cumbria Community Foundation with the help of a local panel.
"The panel is made up representatives from eight community and parish councils who will vote on what to fund."
She added that local authority councillors from both sides of the border would attend meetings in an advisory capacity.
The company state that an official community-focused opening of the wind farm will take place later in the year.
As part of the planning and environmental agreement, the site must be returned to its natural state at the end of the 25-year operating life.
NEWSDESK: 01461-202417