Andrew Bailey toured the Crichton at Dumfries, including meeting representatives of The Crichton Trust, Dumfries and Galloway College, the University of Glasgow and The Scotland 5G Centre.
He was accompanied by Will Dowson, the Bank of England's Agent for Scotland.
They discussed the role that technology plays in enhancing the impact rural communities can have on the wider economy with Dr Ian Macmillan, Gwilym Gibbons and Rachel Cowper from The Crichton Trust and Julie Snell, Paul Coffey and Andy Todman from The Scotland 5G Centre.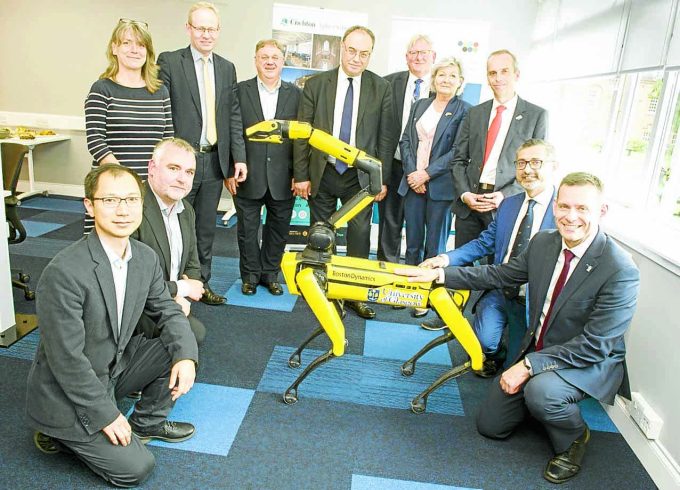 Mr Bailey was encouraged by the innovative and ambitious plans put 5G technology to the test in rural areas, saying: "I was delighted to see some innovative uses of 5G technology being developed in Hubs like the one in Dumfries. The potential improvements for how we live and work should have positive impacts for businesses and households, particularly in rural parts of the economy."
Trust chief executive Gwilym Gibbons said they appreciated last week's visit, which allowed them to showcase their ambitions and demonstrate the potential for rural based innovation to generate technological solutions.
And Paul Coffey, of The Scotland 5G Centre, added: "We were pleased to host the Bank of England Governor visit to witness first-hand what the Crichton Centre and our Scotland 5GConnect hub at Dumfries has to offer. 5G provides huge transformational benefits to industries and working practices and adopting advanced connectivity, augmented through 5G network capabilities, unlocks growth and innovation and allows processes and outcomes to be re-imagined by using industrial automation, AI video applications, drones, and IoT sensing technologies."