Up to 1000 people released a stream of balloons at Dumfries on Sunday afternoon to pay tribute to the tot.
The toddler's life support machine was switched off at the Queen Elizabeth Hospital in Glasgow after parents Barry Brock and Haley Hamilton were told there was no chance of recovery.
At the Glentrool playing fields in Lochside, Dumfries, near his home distraught Barry, 38, released the first balloon and thousands more sailed over Lochside on the outskirts of Dumfries.
Rangers fan Barry had asked Old Firm supporters to release  balloons at the Rangers-Celtic Scottish Cup tie at Hampden.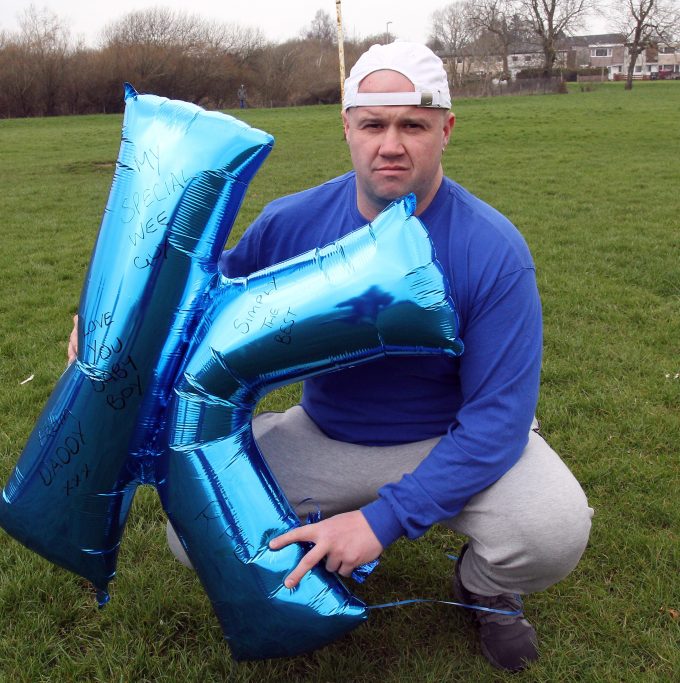 DEVESTATED . . . Koa's dad Barry Brock
The Dumfries organisers of the balloon release Aiden McWilliam said: "It was my partner Callie McCormick who started it but unfortunately she is ill today and can't make but I know she's delighted with the support.
Angela Gilmour of Lochside Families Together added: "The support is tremendous. We knew a lot of people would turn out but this is amazing. Everyone is so sad."
Meanwhile balloon releases took place at Hampden Park, Lockerbie, Dubai, Turkey and more.