HAIRDRESSERS, garden centres and homeware stores across the region welcomed customers for the first time since December this week in line with the continued easing of coronavirus restrictions.
Many had pre-booked their trims weeks in advance, prepared flower beds and allotments and made plans to visit stores in anticipation of the Monday bank holiday re-openings.
And local businesses trading for the first time this year have reacted positively to shoppers and clients turning-out in socially-distanced droves.
Tracy Hastings, who runs Tracy's Barbershop in Dumfries, said: "We opened on Monday for a few hours that turned into all day, but the thing is the guidelines aren't that clear. It says open by appointment only, so I'm trying to do that as people are used to walking in, so it's a bit manic.
"People are still queueing in the street and we have a lot of appointments as well. We're trying to accomodate everybody."
She added that some customers had been waiting for hair cuts since before Christmas, when the barbers was last open.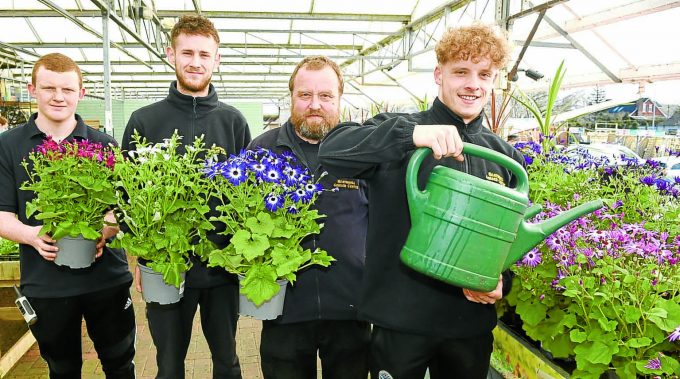 David Wilson, owner of Hetland Garden Centre in Carrutherstown, was glad to open up again on Monday following the store's longest-ever period of closure.
He said: "The day we closed was Christmas Eve's eve and our garden centre was a Christmas winter wonderland, so when we returned to work the first job was to make the winter wonderland back into a garden centre, which is a big job within itself.
"The big thing for us this year in our trade is there is a general shortage of products, be it plants or be it dried goods, so we've been very busy stocking-up for the season."
David said this has been caused by disruption to supply chains as a result of the pandemic and "sheer demand".
He added: "We have so many new gardeners now so there's more demand with a lot of people being at home and not being able to leave the house, there's been a lot new gardeners there to supply really.
"We've been really lucky compared to a lot of trades; we've been forced to close in probably the quietest time of year for us."
Reflecting on the first few days of being open again, he said: "It's been manageable; it's been nice and steady, a steady stream of customers coming through and the ones that are worried about coming out, we're still offering click and collect.
"It is exciting times to have customers back in the centre, it has been a long time but it has been for everybody."