The town has strong links with the Belgian capital and the chairwoman of Annan Community Council Joyce Wylie has written to the Bourgmestre of Watermael-Boitsfort, one of the 19 municipalities of Brussels.
She said: "I send our heartfelt condolences to Brussels and the families of those who lost their lives in this terrible tragedy.
"Our thoughts are with the injured, the victims, their families and their loved ones at this very sad time."
Representatives from Watermael-Boitsfort and Annan first met in 1985, forming an official twinning a few years later.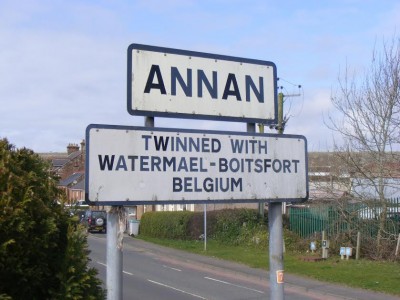 Former Annandale and Eskdale District Councillor John Thorburn from Annan was involved in the twinning.
He said: "Despite the fact the twinning formally ended a number of years ago, we have good relations and want to show our support at such a hard time. Our thoughts go out to all of the families and loved ones of the injured and dead."
Dumfries and Galloway Councillor Richard Brodie, who lives near Annan, has also written to his counterparts in Brussels.
He states: "The bombing of so many innocent people is so senseless. Be strong and do not be deflected from leading life as normal in your beautiful district."
NEWSDESK: 01461-202417