A MOTORING enthusiast driving the length of Britain in the world's tiniest car for Children in Need stopped off in Dumfries this week.
Like many fundraisers, Alex Orchin is embarking on the famous 874-mile journey from John o' Groats at the tip of Scotland to Land's End, the very southern point of the UK.
However, the self-employed 31 year-old is more confined than anyone who's taken on the challenge before him — as he's completing the colossal drive in the three-wheeled Peel P50, the world's smallest car.
Alex, from Wivelsfield in East Sussex, explained he usually uses the minuscule motor for commuting to work but said he realised it could be a "very powerful form of publicity" after being constantly stopped by people and asked about it.
He added: "I wanted to undertake a large motoring challenge with it so I thought John o' Groats to Land's End is pretty much the biggest drive you can do in the UK and when I looked into it and found no one had ever done it in a Peel P50 before, I thought this is the perfect opportunity to raise money for a charity. Being November, a friend of mine suggested doing it for Children in Need and that's a charity I've always supported – it just ties in really nicely."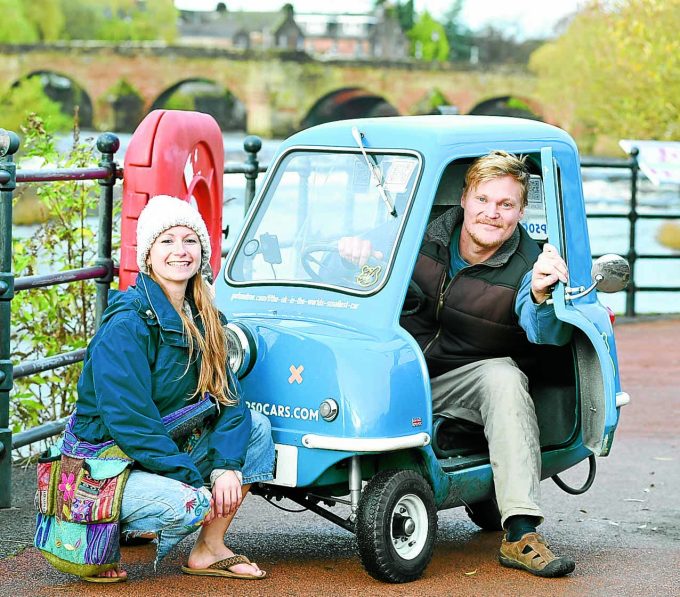 Trailing behind him in a vintage camper van, dubbed Alex's 'support vehicle' is friend Joely Raffel, who requested that the pair stop off in Dumfries due to family connections.
After setting off last Saturday, they arrived in Dumfries yesterday (Thursday) before heading for the border.
Joely, 27, said: "My grandparents are from Dumfries, my dad grew up here so I've always come up here and I've got a strong connection. I've not been here for nearly a year so I just wanted to come back and visit my grandparent's grave, take pictures and reconnect with the place."
Alex said: "I don't know Scotland too well, I always wanted to travel around Scotland being a piper of 20 years now and Joely, my friend in the support vehicle, the camper, her grandparents are actually from this area and she asked if we could make it part of the trip so we could visit it and of I said absolutely."
Reflecting on the challenges of the journey so far, he added: "They've been little things like tinkering around with adjustments like the clutch cable, the breaks, tyres, but the harder challenge has been the mental and physical endurance; we're five or six days into it now and I'm really feeling it in the knees and ankles. In the first day we did nearly 200 miles and I was stiff and at the moment we're doing around 100 miles a day and every 20 or 30 miles we pull over, I get out, have a walk around and a stretch, warm up in the camper and have a cup of tea and then get back to it – it's getting harder each day.
"Along the way there's been a lot of waves, a lot of flashing and taking pictures, thumbs up and smiles and when we're in towns people gather on the side of the pavement. I did have one guy in a highway maintenance vehicle who put his hazards on and pulled me over, I thought I was in trouble but he gave me £10 towards the charity, so the response I've had is amazing."
Alex has raised over £5000 so far – smashing an initial £2000 target he set before starting the drive – with still around a week to go until arriving at Land's End.
n Donate by visiting www.bit.ly/3CtfhzE.